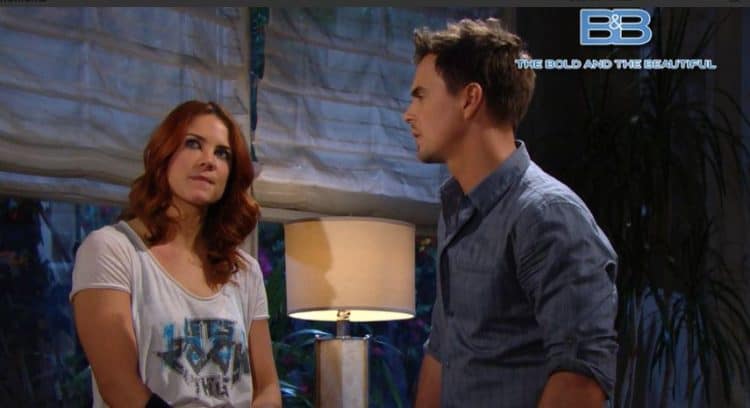 The Bold and the Beautiful fans know there's a lot going on right now, and that's not changing soon. People are upset by so many things, and we've seen a lot happen lately. For one, we saw that Hope and Maya had a confrontation. Hope told Maya she felt that she over-stepped her boundaries in regards to a few things that have happened lately, and Maya basically told Hope she might want to back down and keep her mouth shut. She's not the type to sit back and allow anyone to talk to her like that, and it doesn't matter to her if it's family or not. She's not sitting back and taking this from anyone. But that's who she is. Hope, on the other hand, doesn't seem to care, either. She's got her own life problems to face. But that's what makes this good.
And we also saw that Brooke opened up to Ridge about feeling sad. She can't seem to find her own happiness right now, and it's all because of her daughter and her situation with Liam. She's too invested in this situation, if you ask us. She has to let go of the fact that her daughter lost Liam. And she needs to remember that this has not one thing in life to do with her. She has to get over the fact that she's not able to get this situation to work her way. It's not her place to figure out how to make sure Liam and Hope and Steffy are happy, and he doesn't need to base her own happiness on the way her daughter lives her own life. Maybe Ridge will agree with her, and maybe he will not. Either way, Brooke only seemed a little whiny about the whole thing.
What's Happening on the Bold and the Beautiful
RT if you think Bill is the right person for Steffy. #BoldandBeautiful #Still pic.twitter.com/RtXXwB2dP9

— Bold & The Beautiful (@BandB_CBS) June 20, 2018
Fans are not at all amused by Bill and his actions. He's going to do anything he can to get the woman he wants, which just so happens to be the mother of his newly born granddaughter. And he will not let things go. And that's ugly. Fans want to know if you like this idea for him. Do you want to see him and Steffy together, or do you want to see her with Liam? We are with the fan who asked you to retweet whether or not you want Bill to win her heart. Do you?
What's Next on the Bold and the Beautiful
TODAY: Hope deals with the shock of learning that Liam is preparing to ask Steffy to be his wife again. #BoldandBeautiful pic.twitter.com/vZiiKx45Jf

— Bold & The Beautiful (@BandB_CBS) June 20, 2018
It turns out that things will only grow more complicated for someone around here. It turns out Bill will not let things go. It does not matter to him at all that his son and his daughter-in-law just had their baby and want to be together again. It doesn't matter to him that they are about to get remarried. All he cares about is the fact that he wants Steffy all to himself, and he will do anything he can to make that happen in his own time. He will once again meddle in their relationship and see what he can do to make them as miserable as possible. We've heard he's going to try and get the doctor to tell them that he's the real father of the baby even though he's not, and that might still be on the table – but we really don't know.
All we know is that we will see that, we will see that there is a lot of stuff going on at Forrester when Emma and Xander make some changes and want to do some things that don't seem right to the people who are there already. Julius and Vivienne will not know what to do when they hear what Xander has in mind, and they aren't really sure how to proceed when it all goes down. They want to know what happens next, and they can't decide if they think that this is going to be a good idea or a terrible problem. It could go either way.
Stay tuned for more The Bold and the Beautiful and be sure to check out TVOvermind daily for the latest The Bold and the Beautiful spoilers, news, and updates.