Wednesday brings even more drama to The Bold and the Beautiful. On Tuesday's episode of the hit drama, we saw Liam find his fiancé in bed with his brother, though they were only cuddling. His insecurities kick in, as well as the fact that this is a relationship that has not been in the best place for a while now, and he ends his engagement with Steffy. She's heartbroken, Wyatt is happy and it appears that Katie stuck up for Steffy with a point of her own. She makes a valid point when she tells Bill she'd be very unhappy if he did what Liam did, which was take an Australian getaway with an ex. She uses Quinn as an example, and that leads us into Wednesday.
Katie admits she would not love to have him spending quality time with one of his ex's, but she has no idea that's precisely what he is doing every time he's at work now, and all because of Katie. She insisted that her sister come to work with them at Spencer Publications, and Brooke still has not told her sister that she and Bill have a past. We will see Brooke in her new position, and we will see things heat up between her and Bill. There's a kiss coming between these two, but it might be later in the week.
Wednesday brings with it Brooke's desire to continue to be a good sister and not interfere with Katie and Bill's relationship, even though she knows that by coming to work at Spencer Publications, she's done exactly that to her sister and to Bill. It's too late now; she's already well embroiled in her sister's relationship, and it's not going to end well for either of them. Did Brooke take this job to make sure that she kept Katie happy or because she was pressured to take it, or did she take the job to get closer to Bill and she's only pretending to want to be a good sister by not taking things anywhere with the man she admitted she loves? Wednesday brings more revelations for these two and their soon-to-be ugly love triangle between sisters, especially when Brooke locks the door of Bill's office and tells him she doesn't want any interruptions. Is this about to turn into a sister/sister fight?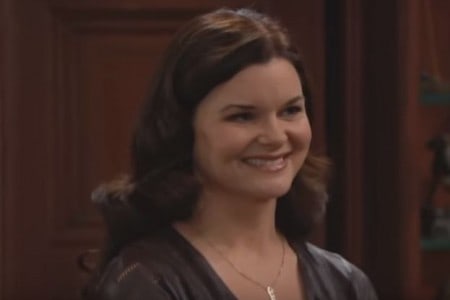 Nicole's pregnancy is still taking a toll on her mood and her personality, turning her into an ugly friend with jealous motives. She continues to do whatever it takes to convince Rick that Sasha should not model for his company, but it appears that he's not listening at this particular moment in time. Sasha, on the other hand, has realized that she is more comfortable with Zende than ever before. She danced, she posed and he shot photos of her that landed her a modeling job, so he surely sees her in another light at this point, right? She's looking to find out whether or not this is true on Wednesday, and it appears that now that he is in her line of sight, there is no getting out for Zende. What Sasha wants, Sasha gets.
This might prove good news for others on Wednesday, though. Since Sasha is so busy with her new modeling gig and with figuring out how to make sure that Zende is into her, she doesn't have much free time to plot against Julius, her father, and his family. It looks as if her secret is safe for another day, at least.
In other Wednesday news, we know that Quinn sees no problem with the fact that Liam has left his fiancé, as it turns out she would much rather see Wyatt with Steffy. Knowing this meddling mama, she's already got a plan in the works to ensure her son is with Steffy after Liam left her, and it will very likely backfire in her face, but not tomorrow. Her interference knows no bounds. However, Steffy seems genuinely upset that Liam is gone and that their engagement has been called off. Will she decide to seek solace for her broken heart in Wyatt's arms, whether because she wants to or because she's found herself caught up in a moment? Or will these two find a way to work through their relationship despite Liam and Ivy's trip to Australia and Steffy's moment of weakness in bed with her future brother-in-law?
Photos by YouTube