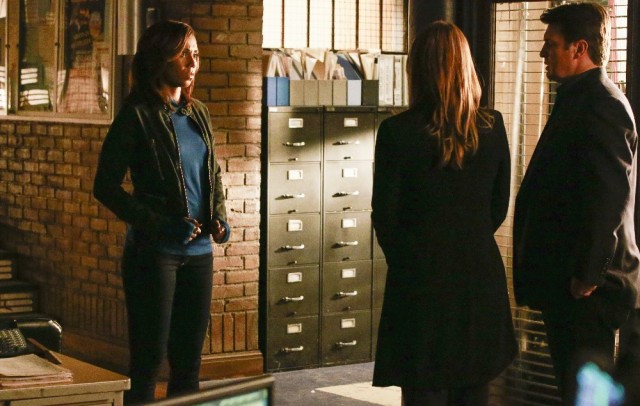 Castle season 8 episode 18 has a lot to live up to.  The last three episodes of Castle have been some of the best of the season in terms of positive viewer response.  "Fidelis Ad Mortem" was a strong dramatic case and within the realm of that case Captain Kate Beckett (Stana Katic) was shown to be the intelligent bad*ss woman that she's been for years.  It also ended the ridiculous fake marriage breakup between Beckett and writer Richard Castle (Nathan Fillion). "Heartbreaker" gave us back solid bromance between detectives Kevin Ryan (Seamus Dever) and Javier Esposito (Jon Huertas) as well as showing the long-standing sibling-like connection between Beckett and Esposito.
Then came last week's "Death Wish."  It had fans cheering for how well the newest staff writer Stephanie Hicks nailed all of the show's relationships.  Not only did Beckett & Castle's relationship seem both sexy and emotionally connected, but the dynamics between all of the other main characters were on point.  The scenes at the 12th Precinct were great! Away from the 12th Castle's mother Martha Rodgers (Susan Sullivan) was as loving and outrageous as ever & Medical Examiner Lanie Parish (Tamala Jones) was there keeping it real at the crime scene.  Even Castle and his daughter Alexis (Molly Quinn) were well-balanced together.  In short, the Castle gang really interacted like the people viewers have loved watching for years – a sense that has been missing for most of Castle season 8.
Will Castle season 8 episode 18, "Backstabber" keep that momentum going, or was Castle, "Death Wish" a spoonful of sugar to get viewers to watch "Backstabber"?  Looking at these Castle 8 x 18 spoilers I get the feeling it's more of the latter.  Mainly because the story synopsis is letting us know who the focus is going to be on: Hayley Shipton (Toks Olagundoye).
After Hayley does a favor for an old friend, she finds herself implicated in a killing and cyber-terror attack. Now, Beckett and Castle must rush to solve the case and clear Hayley's name.
Clearly, this episode isn't going to be like last week. The only possible good I can see coming out of Castle 8 x 18 is that Hayley is guilty and either, gets sent away for a long, long time, or manages to escape and disappears. The latter would be interesting as she could periodically return to cause havoc in the way that the 3XK character did. While Olagundoye is a lovely actress, the role her character has taken up on Castle is annoying. They keep wanting her to be part of the gang – and she's just not. This sneak peek certainly sets up some doubt about her character:
[youtube https://www.youtube.com/watch?v=F3zLmgeDO-I&w=560&h=315]
Hayley Shipton has been: a disgraced cop, a "security specialist" working for an insurance company, Alexis's new buddy/mentor, a person supposedly sent by Castle's Dad to keep an eye on him during Castle's missing time saga, his "business partner," and now she's a former MI6 agent that chose to leave the agency. Â At least if Hayley were to be the woman described by the MI6 agent all these other things would add up better and she'd become a lot more interesting as a character. Â It could also create some dramatic fallout down the line for Alexis and Castle because they both completely trusted her. Â Talk about a confidence shaker!
This second sneak peek…displays all the reasons why I hope Ms. Shipton turns out to be an evil character:
[youtube https://www.youtube.com/watch?v=NXQVUH2mtTU&w=560&h=315]
The fact that Hayley's the one who went with Castle to L.A. still stings – and now she's hanging out with him at crime scenes? The writers are doing their darndest to make this cute and funny, but I miss Beckett out in the field and Hayley there feels wrong – just like Hayley going to L.A. did. However, I do like the Lanie and Castle banter and Castle and the guys.
This scene also brings up a secondary issue – one that is not just a season eight problem. How grating is it that even Hayley has enough sense to know she needs to use gloves to pick up evidence and Castle never does? On top of this, the fact that her saying that touching the evidence messes up the fingerprints points out how Castle basically screws up evidence every week and no one ever says a word!
Where is Beckett in all of this? Who knows, but from the promo we do see that she's in the episode:
[youtube https://www.youtube.com/watch?v=jK00dG6YmVk&w=560&h=315]
I wonder if Beckett will doubt Hayley's innocence? if so, let's hope she's right, because otherwise it could become a Caskett problem. Truthfully, as much as I'd like Hayley to turn out to be guilty, being that she came on as a series regular I doubt it will be the case. That would make it a more interesting episode though, so…you never know!
On the flip side, if ABC has any ideas that Hayley Shipton could somehow become a character to replace Kate Beckett…they are making a serious miscalculation.  TVLine is reporting that the show has shot two possible endings for the Castle season eight finale: a cliffhanger, and a series finale.  The cliffhanger isn't great news because that will continue…wait for it…LokSat!
(…) co-showrunner Terence Paul Winter tells TVLine that for the Season 8 finale airing May 16 – titled "Crossfire," in which a twist in Rick and Kate's final pursuit of LokSat "puts their case, and their lives, in jeopardy"
However, one of the scenarios for season nine is far worse!
(…) if Castle does return for Season 9, it could look one of two ways: like the show that fans currently know, or a variation that accounts for an altered cast.
You can read all the details from the interview with the showrunners over on TVLine.  I included it here because in terms of Hayley the information gives us clues about her future.  Hayley could turn out to be a part of LokSat. Now, I dislike the LokSat mess and wish it would disappear as a show character's bad dream. However, as lovely as that would be, Hayley being connected to LokSat would be much better than this alternative: her turning out to be one of the good guys and a part of the new "altered cast."
Castle season 8 episode 18, "Backstabber" airs Monday April 18th at 10pm ET on ABC.