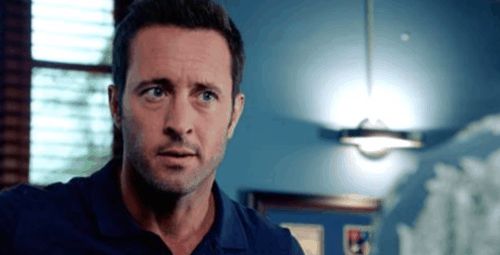 As an elite task force, the Five-0 team are always on their toes prepared for anything. Which is what makes the few times when they are legitimately blindsided all the more heartbreaking. Now Hawaii Five-0 has finally revealed the true reason behind the absence of one of their own, just as they start to piece together the investigation against their unit.
First, the case of the week. An assassin kills a room full of surgeons to get to Tommy Luana, a patient who had a foreign object embedded in his body. Five-0 finds the surgeon who performed the procedure, Dr. David Yang. The doctor gives them the name of the man who paid for the procedure, Chris Dalton. Dalton works for an internet company which handles work for the NSA. He flees before either Five-0 or his boss can question him about digging into classified black ops files and putting them on the flash drive. It turns out his girlfriend is the assassin, and he was just the loveable dummy who believed he had a good girl.
The flash drive is useless without Dalton, since he installed security measures in such a way that only he can decrypt the information. When he ends up in Five-0's custody after nearly being kidnapped by his girlfriend, she gets upset and must use a different strategy to get him back. So she gases the entire Palace, knocking everyone out inside in order to kidnap Dalton again. This does not sit well with Steve, who just found out that one of the names on the flash drive is Catherine. After months of heartbreak and confusion over Catherine's rejection, Steve finally knows the truth. Even more driven to save Catherine while she is in deep cover, Steve and the rest of the team find Dalton and the drive in time. Steve finally understands, but now what?
Doing her duty as a mole, Abby has been soaking in everything she's seen since working with Five-0. What she didn't know is that her boss, Coughlin, is the brother of the IA investigator who tried to railroad Chin. That strategy did not work out considering the deceased Coughlin made a deal with Gabriel, and Gabriel responded by killing him. So now it seems that the brother has started a witch hunt investigation as revenge. Abby has seen no proof of misconduct, and driven by that and by guilt, it appears that she is finally ready to confess to Chin.
Will Catherine return from her black ops mission? What will Abby's betrayal do to Chin and the rest of Five-0?
Hawaii Five-0 Review Season 6 Episode 17 Review: "Waiwai (Assets)"
Summary
Secrets are revealed as Steve learns the truth about Catherine's departure and Abby's guilt overwhelms her in the latest Hawaii Five-0.