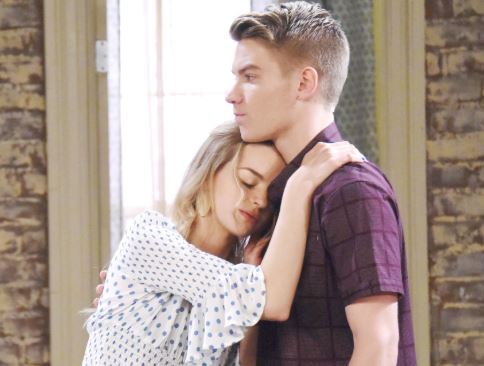 Days of Our Lives fans watched yesterday as things went awry for Ciara and Ben. A fire began at the cabin, and she passed out. She's not able to get herself together to save her own life, Ben is not seeing things as they are without his medication, and he's borderline ready to strangle her because he's suffering visions of his father telling him it's the right thing to do. It's not good news for her at all, and we aren't sure how to handle her situation to make us feel better. She's in a place right now where she's just not able to get it together, and that's not her fault. But her mother is coming for her, and there is no doubt in our minds she will find her daughter and bring her to safety – and then tell her it's not her choice to see Ben again for the rest of her life.
And then there is the fat that Brady is telling Eve what is going on. Theresa made it sound like he is the one who killed Deimos, but we know he did not. And he's opening up to Eve to make sure she is aware of the truth. It was Nicole who took him down – and rightfully so in our minds – after all he did to her and her family. He was a bad man, and he didn't change. And now he is going to suffer because she did this and he's being accused of it. He feels he is in an impossible situation right now. He is wondering how he will handle this, what he will do, and how it will all play out in time. He wants to keep his son, but he can't just go outright with the truth about what happened to Deimos, can he?
What's Happening on Days of Our Lives
She sure is! #DAYS https://t.co/3Ejj6CBhgj

— Days of our Lives (@nbcdays) July 7, 2018
Fans know that Claire and Ciara aren't the best of friends, and we also know that Claire decided she was going to go out of her way to make a move on Tripp last week. It might have seemed innocent to him, but we – the fans – know how women work, especially when they don't like the other woman in a man's life. She and Ciara might be family, but they despise one another and work very hard to one-up the other any chance they have. And that's not what makes the world go round.
What's Next on Days of Our Lives
This week on #DAYS: Things are heating up in Salem this summer, as several new relationships get steamy. Watch Days of our Lives, weekdays on NBC. https://t.co/p0tDRNfC78

— Days of our Lives (@nbcdays) July 9, 2018
It's a big day for Eve. She has to tell the man she's in love with that he has to betray someone he was once in love with. He has to tell the judge the truth about what happened to Deimos and what Nicole did. He has to throw her under the bus and get his name off the table as a murderer. This is about so much more than protecting a grown adult who isn't even present. It's about protecting his son and being there for him. To Eve, it doesn't seem like there is anything to hesitate about. His son won't be with him ever again if he doesn't throw Nicole under the bus for what she did, but he won't do it. He is not sure he can do that.
Eve is not amused. Why is he still protecting Nicole at the risk of losing his own son? She is wondering if this means she's more important to him than anything else, and she's not about to be happy about that in the least. And then we have to watch as this mess unfolds, and Theresa basically wins no matter what. Even if she doesn't get her way with things – and she will not – she will drive a wedge between them with something else – Nicole. Could she come back to town if her name is thrown under the bus and she's wanted for murder? It would be interesting to see that go down with the way Brady seems to feel about all these women.
Stay tuned for more Days of Our Lives and be sure to check out TVOvermind daily for the latest Days of Our Lives spoilers, news, and updates.