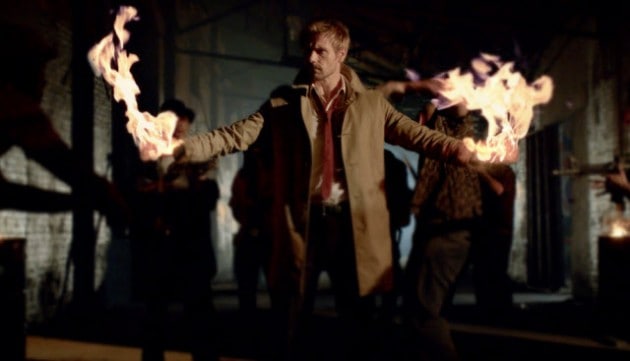 Constantine debuted this past week on NBC, but if you missed it, I wouldn't blame you. Right out of the gate, NBC is airing the show at 10PM on Friday nights, and combined with mixed early reviews, I have to wonder how long the show will survive in any meaningful capacity at this rate.
Our own Andy Behbakht liked the pilot quite a bit, and reminded me that the 10PM slot is necessary for the very, very mature content of the show. And yet, it's the Friday part that worries me, even if this IS an age where we are watching everything streaming or off DVR recordings. Hannibal has that 10PM "mature" slot as well, but it wasn't given the Friday sentence on top of that.
Constantine is a quirky show, based on a comic which already spawned one movie adaptation starring Keanu Reeves. This show seems like it's attempting to veer quite close to the original source material, Hellblazer, and will likely be better for it.
Still, it seems like a very, very niche concept, and one whose potential audience is shrunk further by its odd airtime. Yes, Hellblazer may have a solid core group of admirers, but they are not that large in the grand scheme of things, and comic fans are notoriously finicky. Even if many watch week to week, many will likely give up when the show is inevitably "tweaking" things from the comic that they won't like.
It's not as if Constantine is an inaccessible concept, and appears to be a cross between Supernatural and Doctor Who mixed with a bit of The Strain for good measure. But even if it is based on a beloved comic, it's not nearly as straightforward as say, The Walking Dead.
For Constantine's part, I think they've done a great job with casting, but I'm worried about what it will take to make a success of the effects heavy show (which means higher costs). I can't imagine NBC ever thought they'd rake in the viewers with a Friday night timeslot like that. No, it doesn't have competition, but there are far fewer people to watch TV during that time, which is why most shows don't air then in the first place.
NBC is going to have to be very, very generous with the ratings if Constantine is going to survive in any form. They need to HEAVILY consider the live +3 and +7 numbers, along with their online airings of the show which jammed in two full minutes of commercials each break when I watched it.
Otherwise, the headlines will simply be "Constantine in danger after low ratings," when of course it's going to have low ratings. In my eyes, the show is going to have to be truly special to hopefully someday crawl out of that hellish timeslot, but from what I've seen so far, I'm not sure it has those kind of legs. I suppose we'll have to wait and see.
[Photo via NBC]