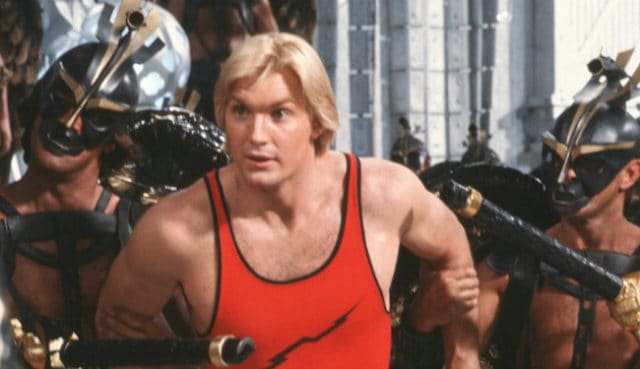 Flash Gordon is a comic strip that started up in 1934 and continued running until 2003. Given its name, it should come as no surprise to learn that it is centered around a character of the same name who has extraterrestrial adventures with his two companions, with the best-known examples being set on the fictional planet Mongo. Flash Gordon was one of a number of comic strips that became popular in those times, as shown by the fact that it was created for the purpose of competing with Buck Rogers, which was well-established by the time of its launch.
Did Flash Gordon Ever Make It to the Screen?
Seeing as how Flash Gordon continued running for most of the 20th century, its popularity is clear. As a result, there was a wide range of Flash Gordon products, with examples including but not limited to books, games, and toys. However, a lot of people might best remember Flash Gordon because of the 1980 movie of the same name.
The 1980 movie was done in a deliberate camp style, which was rather unsurprising considering one of its co-writer's involvement in the 1960s Batman TV show. Furthermore, it is interesting to note that the movie boasted a soundtrack created by the rock band Queen, which was supplemented by orchestral score pieces written by Howard Blake. However, the 1980s movie tends to be most memorable because of Brian Blessed's bombastic performance as Prince Vultan, which remains the highlight of the movie as well as the highlight of said individual's career.
With that said, the 1980 movie was neither the first nor the last time that the franchise made it onto the screen. For example, there have been six separate TV shows featuring the character, with the latest example having been in 2007 and 2008. Likewise, there have been numerous movies besides the 1980 movie, though not all of them have been live-action in nature. Summed up, the popularity of Flash Gordon makes it no wonder that there has been such a number of Flash Gordon movies and TV shows.
Will We Ever See a Flash Gordon Reboot?
At one point in time, it was reported that Matthew Vaughn had signed on with a Flash Gordon reboot in the role of a director. However, that project seems to have stalled for the time being, meaning that there is no realistic expectation of seeing it sometime soon.
In part, this is because Vaughn is occupied with other projects such as Kingsman 2 as well as its probable sequel considering the success of said movie. However, it should also be noted that Vaughn has stated that it would be difficult to turn a hypothetical Flash Gordon movie into something capable of surviving the same environment with both the Star Wars and the Guardians of the Galaxy franchises, which is rather amusing considering that Star Wars is actually often said to have been inspired in significant part by Flash Gordon. Regardless, the fact that a hypothetical Flash Gordon movie would face such tough challenges means that interested individuals should not be expecting a reboot anytime soon, though considering the sheer popularity of the franchise, they should not give up hope altogether either.
Save