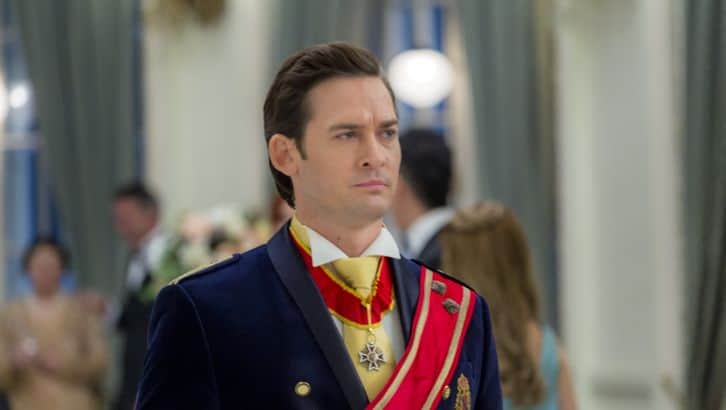 The latest addition to Netflix's 2020 schedule is Spinning out, an emotional drama following Kat Baker (Kaya Scodelario), a figure skater who's struggling to balance her professional dreams with love, family secrets, and fragile mental health. Joining Scodelario on the cast as Baker's coach is Will Kemp, an English actor who's managed to make the successful transition from ballet star to Hollywood leading man. Find out more about him with these 10 little facts.
1. He prefers the classics
We've seen Kemp perform in pretty much every genre, but if he had to choose which type he prefers watching himself, he'd plump for classic horror. "I have to admit, the classics are my favorite," he's told Horror.com. A lot of the time they are just hilarious. I like the Lon Chaney one; he made me smile a lot because he'd suddenly change into an animal and then straight back into a clothed man."
2. Fame hasn't changed him
The Hollywood machine has a habit of turning even the most well-meaning up and coming star into a horror. Dropped into a world of yes men and 24/7 luxury, it takes a strong person not to let the fame go to their head. Kemp, on the other hand, still sees himself as the same Herefordshire lad he always was, and credits the people around him for keeping his feet on the ground. "It's interesting people say `oh you will change, you'll go to Hollywood, become a "movie star"," he tells Made in Atlantis. "I don't feel that way at all. I'm lucky because I am surrounded by great people. I have a great wife who keeps me very much down to earth, and people, who know me, know who I am and what really matters."
3. He trained at the Royal Ballet School
Kemp began taking dance classes at the age of 9. Not terribly academic, he found dancing gave him a sense of purpose and fulfillment that school didn't. By the age of 16, he'd decided that performing was where his heart lay, and enrolled in the prestigious Royal Ballet School. He's since described the experience as being akin to the army: "strict, tough, frustrating but rewarding".
4. Gap made him a household name
After playing the lead role of The Swan in the all-male cast of Matthew Bourne's Swan Lake from 1997-2000, Kemp's star went stellar in 2002 when he danced as part of Peter Lindbergh's commercial for Gap's "For Every Generation" campaign. The commercial had a massive impact, appearing on pretty much every bus and building around, not to mention in Time Square. 2 years later, he repeated the success of the original when he appeared alongside Sarah Jessica Parker in two Francis Lawrence directed commercials (entitled "Color" and "Shine") for Gap's "How Do You Share It" campaign.
5. He turned down a modeling contract
Shortly after the success of his iconic commercials for Gap, Kemp was offered the chance to sign onto a lucrative modeling contract with Giorgio Armani. Given the amount of money on the table, most of us would have lept through hoops for the opportunity- but not Kemp, who turned down the offer out of fear he'd be forever seen as a model, rather than an actor.
6. He made his acting debut in Van Helsing
After deciding to make the transition from stage to screen, Kemp made his acting debut in 2004s Van Helsing, playing opposite Hugh Jackman and fellow Brit, Kate Beckinsale. Since then, he's continued to star in the occasional film alongside his TV and stage performances, with Miguel y William (2007), Step Up 2: The Streets (2008), The Scorpion King 4: Quest for Power (2015), and Slumber (2017) being some of his most notable performances.
7. He's a father of two
Kemp is officially off the market. He and his wife, Gabby Jameson, a score producer, tied the knot on December 31, 2002, and have two children, a daughter, Thalie, and a son, Indigo. After living in LA for five years, the couple returned to the UK in 2018, and now reside in London with their puppy, Elvis. Kemp has spoken openly about the struggles of juggling his career with family life, telling Grace Tales "It's tough and there is a constant feeling that getting work for 'daddy' is a mixed blessing for family life. I too sometimes struggle with carving out 'me' time, preparation time that other actors without kids and a family will probably take for granted."
8. He's a millionaire
Kemp has been performing in some capacity, be it on stage, TV or film, for 3 decades. A work ethic like that doesn't come without its rewards, a fact that's more than evident in the state of his bank balance. According to Autobiography, the dancer turned actor is now worth an estimated $8 million.
9. He's been described as the James Dean of Ballet
At the age of 17, Kemp successfully auditioned for a place on Mathew Bourne's dance company, Adventure Motion Pictures (AMP). Clearly a star pupil, he was cast as the main character of Swan in Bourne's all-male production of Swan Lake, a role he performed both in London and off-Broadway from 1997-2000. His performance wowed both audience and critics alike, with Sherry Lansing, the head of Paramount Studios, becoming so impressed with his act she dubbed him the James Dean of Ballet- a term that quickly gained traction. Kemp continued to work with Bourne even after his acting career took off, appearing in the likes of Cinderella, Spitfire, The Carmen, and Play Words.
10. A tragedy inspired him to act
Kemp's agent had been pressuring him to move from dancing to acting for years, but it took a tragedy of epic proportions to finally convince him to make the transition. While touring with a production of Matthew Bourne's The Car Man in Los Angeles in 2001, Kemp watched as the Twin Towers came down, and realized that life was too short to put things off any longer. He began auditioning shortly after, winning the chance to appear in two films. Of those, he opted for Mindhunter, and has since described his experience alongside the cast of Val Kilmer, Christian Slater, LL Cool J and Jonny Lee Miller as a "Hollywood baptism".