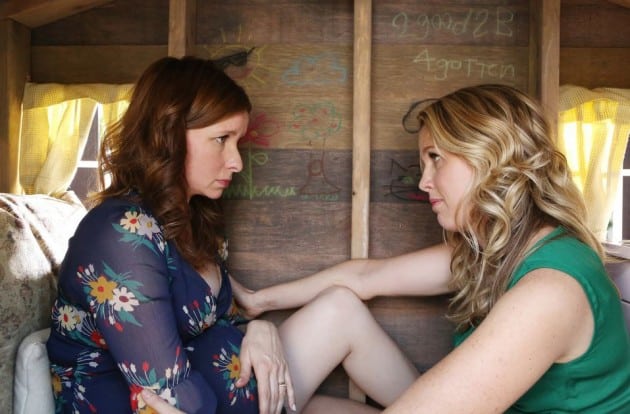 Playing House's terrific two-part season finale aired on June 17th on USA, and since then… crickets. No noise of cancellation, no excited tweets from Lennon Parham and Jessica St. Clair announcing a renewal… not even a mention from USA in June when they announced a renewal for Sirens – or later, when debuting Benched's first season. So why hasn't USA said anything about their well-received, little-watched comedy?
Despite a strong outcry from fans of Playing House the last few months (including myself), USA's been tight-lipped on their plans, if any, for one of 2014's pleasantly surprising comedies. Centered around mother-to-be Maggie (Parham) enlisting the help of her best friend Emma (St. Clair) after dumping her husband, Playing House surprised critics and audiences with a surprising amount of heart behind its slapstick – not to mention the all-rare combination of a show created by women, written by women – and starring said women creators. Their previous show Best Friends Forever actually suffered from this do-it-all combination; however, Playing House tweaks the buddy formula from their previous NBC failure to embody the show with a lot of reflective moments, character-based stories catalyzed by the wildly entertaining friend ship at the heart of the show (plus Keegan-Michael Key in a supporting role as a local cop with a very, very timid wife, which is as fun as it sounds).
So what's the problem? Well, a few things: even though it's moved into scripted comedy over the last year, USA Networks has also dipped its toes into the bottomless pool of "reality" television, with Chrisley Knows Best primed to be its biggest breakout show of 2014 (I mean, they're already in the middle of season two, and the show's pilot was in March). And although Royal Pains and Burn Notice have both ended in recent years, series like Suits and Satisfaction (also renewed for a second season earlier this year) have maintained the show's dramatic brand, which has always enjoyed a small, cult-like following with some of its shows (Burn Notice and Monk being the primary examples). It's not for a lack of popular programming then, that's causing USA to stall on its decision for so long – unfortunately, it's the style of shows that are succeeding that may be.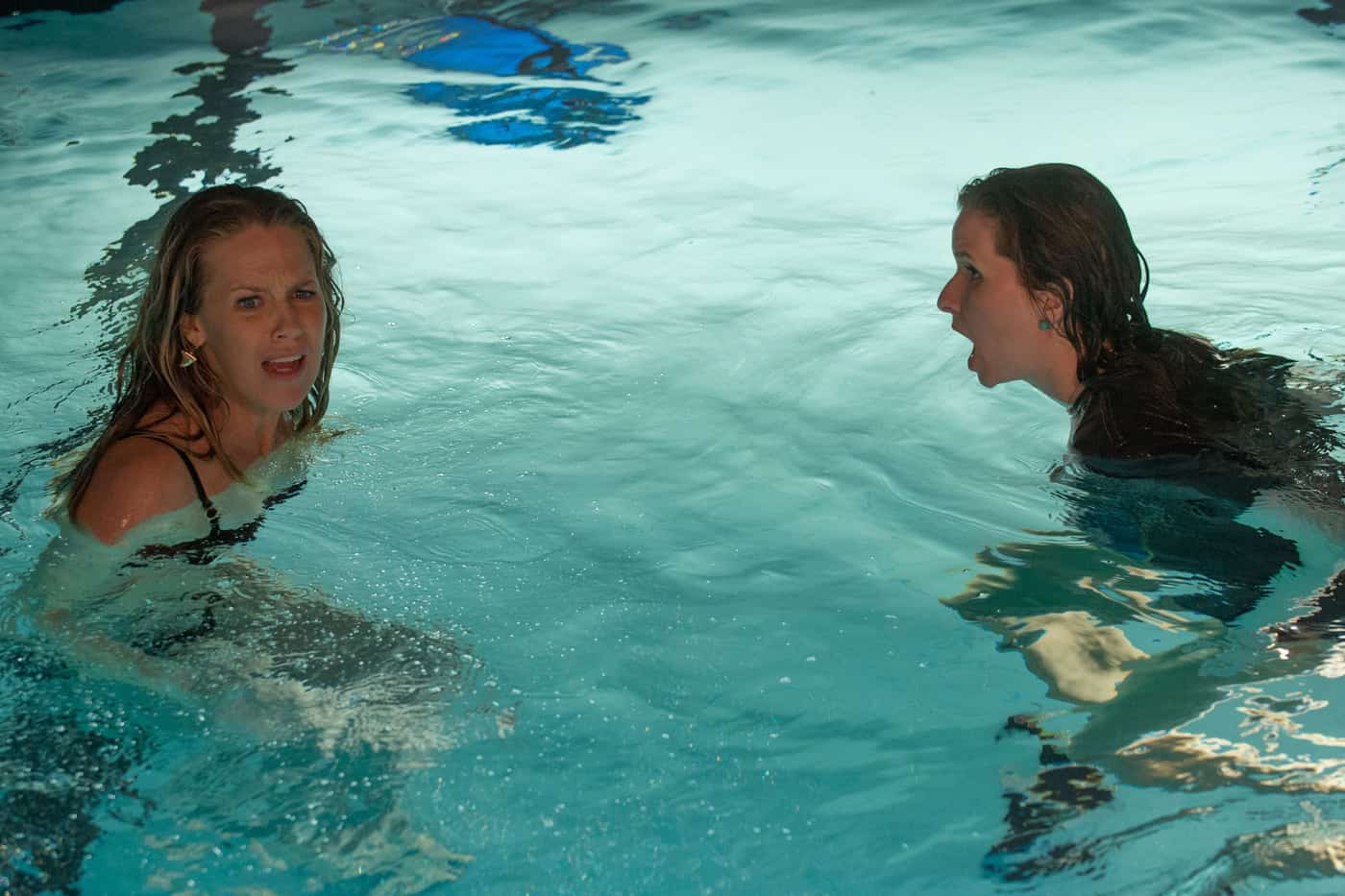 Again, USA's foray into scripted comedy has been quite short: Sirens was their first, Playing House their second, and Benched their third. That's it – and with Benched pulling in less-than-impressive ratings (despite an impressive lead performance from Eliza Coupe) after Playing House's small numbers this spring, maybe USA is just realizing comedy isn't its brand. It still doesn't explain the network's complete silence nearly six months after airing its season finale – at this rate, a second season of Playing House wouldn't go into production until the spring, which means late summer/fall is the earliest we'd see Playing House return.
Knowing that, it feels like Playing House's fate has been silently decided – which is too bad, because it might just be the best buddy-comedy on television right now, and it'll be sad to see it disappear so quickly. St. Clair and Parham, despite how similar their comedic sensibilities are, are just fantastic on-screen as Maggie and Emma, bringing a lot of heart and hilarity to a mature friendship that never feels like it descends into bitterness for easy laughs. Funny and occasionally poignant, Playing House is the kind of low-stakes single-camera comedy we need to see more on television, not less: unfortunately, it appears USA doesn't hold the same opinion, at least so far.
Photos via USA Network