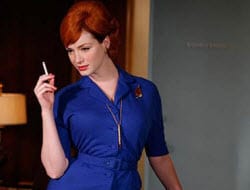 It's official now, there will be a Breaking Bad spin-off called Breaking Bad Saul starring the misadventures of everyone's favorite dirty lawyer, and also a Walking Dead spin-off that will focus on a new group of survivors living in the same zombie apocalypse.
So, now the question stands, will AMC turn to Mad Men for a spin-off as well? It's half a joke, half not. While I would totally watch the adventures of Roger Sterling and Joan, or even Bob freaking Benson, it's more of a commentary on the state of AMC than anything else. Breaking Bad is ending imminently and Mad Men will follow soon after. The Walking Dead can be around for a zillion years, but where are the new shows that are grabbing people's attention on AMC.
The Killing has been canceled. Hell on Wheels puts up solid numbers, but it's hardly a cultural phenomenon. So far Low Winter Sun doesn't seem to have done much to attract much critical praise of audience love.
Can AMC really still be a powerhouse with only The Walking Dead, a spin-off of that show, and Better Call Saul, a show which though we love Breaking Bad, we have no idea what level of quality it will maintain?
I think AMC needs to go back to the drawing board and rebuild its relationships with showrunners, may of which have gone by the wayside over the years. It was original drama that made them rise, and a lack of good original drama could make them fall. Hell, they almost even lost Better Call Saul to Netflix, that's how much they're scrambling.
I don't know. I love the channel, but once Breaking Bad and Mad Men wrap, it's going to be interesting to see what it does next to maintain its iconic status on cable.