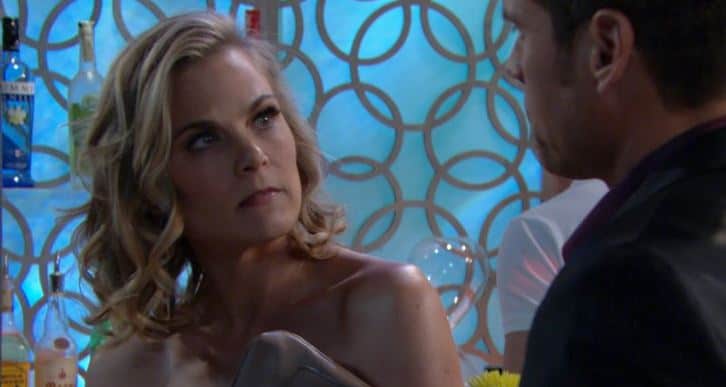 Young and the Restless fans watched all last week as Nick thought he might share with Sharon that he had a one-night stand with Phyllis a few weeks ago, but he ultimately chose not to say a word about it. But she found out. And she did not show up on her wedding day to Nick. We have to sit back and mention that we did call that one like you don't even realize. We called it, we did it, we knew it. She wasn't showing up at that wedding to marry a man who had sex with his ex while she was going through the worst time of her life – even if he didn't know it was the worst time of her life. Anyway, the point of the matter is that she's unhappy, and she's been bonding a bit too much with Rey lately – despite the fact that everyone has warned her this is a bad idea.
Ashley did her due diligence to remove Billy as the CEO of Jabot, Lily gets a visitor she's been waiting on for a while, and Abby and Nikki teamed up. Pretty much none of that was anything we thought we might see, but we are glad we did. We are glad, most of all, to see that Ash decided to do what needed doing and just to go for it. She was working with Kyle for some time, but he's nothing short of irresponsible and a mess, and she's been able to get that situation under control of her own accord. This was a big day for her, and we are all proud of her for making her decision this way. It was good news for all of us. But that's not all, either. We think that there is more, and we think that it will come out soon.
What's Happening on Young and the Restless
These two are happy to see each other! #YR pic.twitter.com/OOjCixhSWR

— Young and Restless (@YandR_CBS) October 1, 2018
You don't get a lot of good times and happy smiles in prison, but that's just what makes people interesting. They don't have much to offer, and they don't really get a lot handled like this – but these two made us smile a lot this time around. It was emotional, and we loved it.
What's Next on Young and the Restless
Coming up on #YR, Traci steps up, Mariah questions Nick, and Sharon leaves everyone worried. pic.twitter.com/bAllF3Fpbl

— Young and Restless (@YandR_CBS) October 1, 2018
Billy is not going to be happy when he arrives at Jabot, and we all know why. He's been removed as the CEO of his family company by Ashley, and he's going to be furious. He has a problem, and he's made it a problem for everyone else. And she's done with it. She made this decision after news broke that he took all kinds of money from the company to fund his gambling addiction, and she's not sitting back allowing him to have another moment of time in which he will treat their family like this. She's done, and she's done it. He's shocked, and don't think that he won't put up the biggest fight ever. He's in a place, and he's not willing to come back from that place without a fight of epic proportions.
In the meantime, there is also a situation in which Mariah has to face a very difficult decision. She's not going to feel good about this, but we suspect she will find a way to make sure she is able to remain positive and upbeat in her own sarcastic and amazing way when she finally makes a decision. Does this have to do with her mother and Nick and the fact that she knew? Will they get married? Will Sharon show up for her wedding, or will she decide she's not bothering with this again after all she's been trough with Nick in the past and in their previous marriage to one another?
Stay tuned for more Young and the Restless and be sure to check out TVOvermind daily for the latest Young and the Restless spoilers, news, and updates.