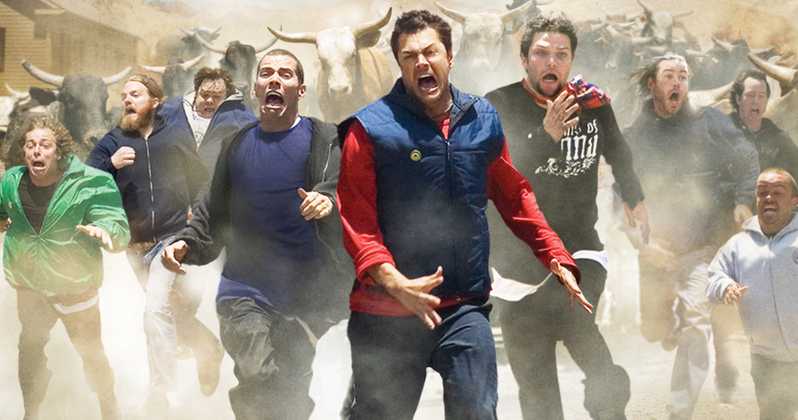 If you ask Johnny Knoxville you might get the reply that of course it's possible there could be another Jackass movie. Dan Sneirson of Entertainment Weekly managed to nail down a few comments by the Jackass alum and frontman when it came to discussing just what could possibly happen. Of course Knoxville, who's nearing his 50s at this point, also put in that the plan would be to find some younger guys to perform the stunts as he and his crew are no doubt still feeling some of the effects that were left over from the last Jackass movie. Seriously, watching some of the stunts they pulled it's a wonder that any of them are still standing, since from crotch shots with basketballs and T-balls to being trampled by longhorns these guys have willingly put themselves through the ringer more than a few times since the early 2000s. Thinking that they could keep doing it is something that might make many people cringe since the laundry list of injuries that the Jackass crew has sustained in pursuit of entertaining their fans is probably long enough to read like an instruction manual of what NOT to do to your body.
An article by Graham Hartman of Loudwire seemed to indicate that such a thing wouldn't be happening though according to Steve-O, though this article was written back in January of this year, perhaps before Knoxville finally decided that it might be a good idea. The idea seems to be, in Steve-O's opinion, that Johnny wanted no part of it, and if Johnny wasn't in on it there really wasn't anything that was going to happen. It makes sense to think of Johnny as the captain of the entire thing since he did have the most stake and personality in the show and the movies and was the perfect frontman since he had the kind of charisma that was needed. Bam might have acted like the big man on campus at times but quite often he was simply too impulsive, while the rest of the crew seemed ready to follow Johnny's lead.
Sara Szabo of Looper managed to find out just what the Jackass members have been doing since their time on the set and for the most part the lot of them have been doing fairly well while doing their own thing. Ryan Dunn of course passed away after an automobile accident, and Bam has been keeping himself out of the public eye for a while after failing to get a handle on his more troubling behavior. That being said though it might be a nice way to pass the torch to the next generation, or it could be a good way to go out by hiring on a new and younger crew of actors to engage in the same stunts that the guys made famous during their careers, if only to save the steadily aging cast from being sent to the hospital yet again with another round of injuries that might finally start catching up to them. The lot of them have taken a lot of hits and a substantial amount of damage throughout the years as a lot of us who have watched the show and the movies know, so it would only make sense to take on a new, younger crew that are willing to do the stupid and over the top stunts. But one question remains. Would anyone even bother to do the same things these days?
Admittedly there are always some fearless and possibly mindless individuals out there that are willing to do just about anything for fame and a bit of money, but the stunts and gags that the crew of Jackass have pulled over the years aren't all about bodily damage, since some of them are simply gross-outs that might make any sane person puke just thinking of them. Steve-O for instance did more stunts that involved him puking at the end than anyone, and each time was a retch-fest that left even the audience feeling ill. Johnny tended to take some of the worst hits, while Preston and Bam might have been second in line for that honor. Dave was, of course, the guy who's acts usually resolved around poo of some kind, while Wee Man, Jason Acuna, tended to do things that were simply funny and tended shock the hell out of people. All in all everyone had their part in the show and it was all well and good while it lasted. But if the guys did decide to come together for another movie it would be wiser it seems to be mentors, guides, and watch as younger folks took the damage for once. In fact it might be kind of funny since their commentary when they weren't involved with the stunt was pretty funny.