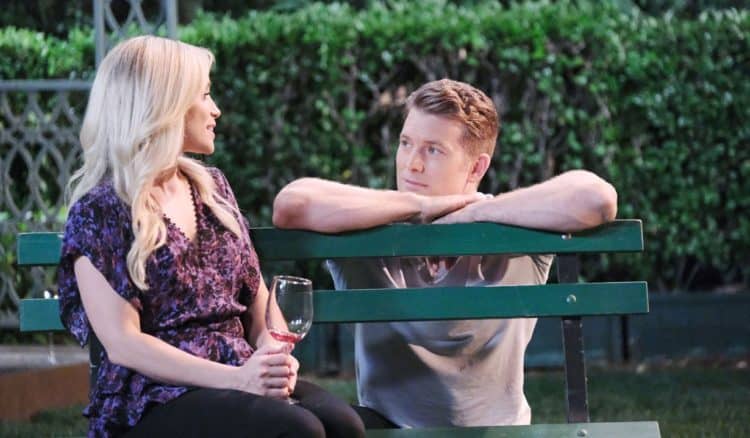 General Hospital fans know that summer is coming to an end, and that means all things fall and holiday are just around the corner. It also means that the summer has to end with a bang, and the rumors are swirling as to how that will end. We hear that there are a few things that might go down before the fall season gets here, and there is nothing we can do but discuss these and whether or not we find that they might be entirely accurate. They might not be entirely true, but we do know that we can see a few of these happen. Take a look at the most interesting rumors we've heard that might just occur in the next few weeks, and tell us what you think about them and how they might go down.
Hayden's Baby Drama
We have to admit that we are all curious as to what happened to her baby. When she bailed on Finn a few years ago, she was pretty pregnant, and there's got to be a reason she came back without a baby. And, we have to wonder if Finn is ever going to find out what happened to the child we think he fathered. Did she lose the baby when she left? Did she give the baby up for adoption? Is she raising the baby herself while lying to everyone about it? Was she ever really pregnant at all? She's a deceptive kind of woman, and we are led to believe that there is a very good chance she was never pregnant in the first place. And, that would be a crushing blow to this man who thought he lost the woman he loved and the baby she never gave him a chance to love.
Valentin's Secret is Revealed
If there is one rumor we do believe, it's probably this one. He's been living this very elaborate lie with Sasha for a very long time, and it does have to be coming to an end. It's not something we think will be let go for much longer, either. We think that there is an excellent chance this will go out and be a thing, and we think that Nina will be more furious than he ever imagined. We think that it will be the fact that is might be all due to the necklace we've all been talking about, hearing about, and wondering about for so long. We remember that she didn't have it when she came to town, but what happens if someone else shows up and they do have it? Will that be what causes her to find out that her husband has been lying to her all along? What will happen to Sasha when this happens? She's gravely ill at the moment, and she's relying heavily on her family to help her through this, even though they are her fake family and she knows it.
Willow is Nina's Daughter
We are not done hearing this rumor yet, and it makes it seem like it could be truer and truer each time we do hear it. Is there a chance that this might be the reality for so many? Is this the chance that they might have a bigger situation to unfold? Is this the truth? Is she the daughter that Nina has been looking for all these years? What does that mean for Harmony and all the trouble she's gone through for her own daughter? She would have to know that this baby is not her own baby, and she would have to know that her own daughter was adopted, right? We can see this being true, too, but what will happen when everyone finds out the truth about this family? Willow's world is a very messy one with the fact that she was involved with DOD and with the other things going on, and with the baby that she gave up for adoption, and then she had some issues that went outside of that, too. We don't know if this could be true, but we do know it is a very real possibility that it might be the truth for some people to learn.