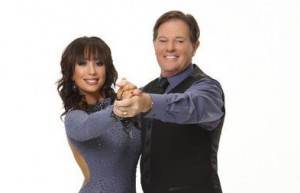 News broke just yesterday that the curse of the Dancing with the Stars pre-premiere injury had struck again, and possibly taken Tom DeLay down with it. Early reports were that he had a stress fracture in his right foot, but it was later determined to be a pre-stress fracture (which basically means almost a fracture). TVGuide.com spoke with DeLay today and he said, ""I'm very cognizant that if it breaks I may have to leave the show, so I am trying to follow the doctor's orders. His orders were relative rest. Let me put it this way: I'm going to dance until the foot breaks."
What DeLay should have said was that he's going to dance until the foot breaks, or he gets kicked off the show! Regardless of whether his injury is very serious or not, I can't imagine that it wouldn't affect his dancing on some level. In addition, how long can he make it before he does end up damaging it, and ends up off the show anyway?
Delay went on to describe how his rehearsals went afte his doctors visit, saying "Now I'm walking around in ugly hiking boots. I'm icing every 30 minutes and we're not dancing for as long a period of time and I'm resting longer. When I'm dancing, it's fine. It's when you quit that it starts telling you, 'That was not good!'"
While DeLay, who is 62, may be ready to carry on in this competition, his body very well might not be. If he does manage to make it past the premiere episode without getting booted from the show, he'll only have one week to rehearse for and learn a new dance. Considering how recent the pre-stress fracture is, it seems extremely possible that he'll never make it that far. So what do you think, should DeLay bow out right now while there's still time for another star to step in his place? Or should he fight it out to the bitter end?