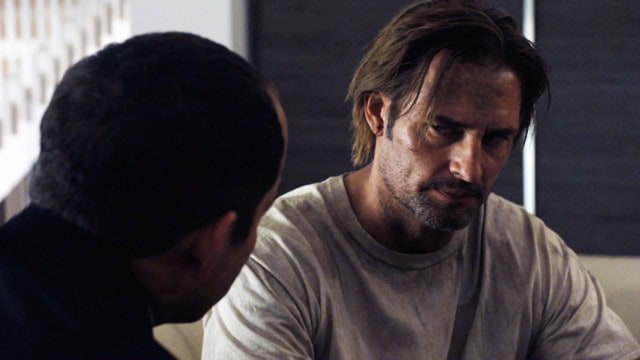 We're about two weeks into 2016, and just like every January, there are a plethora of new TV series coming out this month. One of the new shows that has caught our interest is USA Network's sci-fi drama Colony, which officially kicks off tomorrow night on the cable network.
The trailers, promos, and photos for Colony have intrigued all of us here at TVOvermind, and there's certainly a lot to like about the show. First of all, you can never have too much good science fiction on television, so any time a new sci-fi series starts, it always has our attention. Second, Colony is Josh Holloway's return to TV after his brilliant work as Sawyer on Lost and his unsuccessful turn as a highly skilled agent in CBS' quickly cancelled Intelligence; Holloway was one of the most talented actors in Lost's terrific cast, and Colony may be the starring vehicle that he's been waiting for. Lastly, the basic story of Colony, of a mother and father willing to do anything to get their son back, has all the potential in the world to be incredibly compelling; the smartest sci-fi series explore realistic human experiences in fantastical settings, and this simple yet strong story could make for a nice balance with Colony's alien lords and its futuristic version of Los Angeles.
However, there are some factors that do have us a little worried about the show. One of our main concerns is Carlton Cuse's role as an executive producer; even though Cuse and Damon Lindelof proved to be a great team while running Lost together, his most recent solo projects, such as The Strain and A&E's failed version of The Returned, have been quite lackluster. Furthermore, while USA Network was able to produce one of the best shows of 2015 in Mr. Robot, it's never done any type of sci-fi series before; plus, its history of fun but weightless procedural dramas doesn't bode well for a more serialized form of storytelling. We're hoping the network can assuage most of our doubts in Colony's first episode, though.
But even though we have some hesitations about Colony, we're still optimistic about the show's chances and will be tuning in to its series premiere tomorrow. Will you be watching, or are you going to pass on this new sci-fi drama? Comment below and let us know.
Colony premieres tomorrow night at 10 p.m. on USA Network. Check out the trailer below:
From executive producers Carlton Cuse ("Lost") and Ryan Condal ("Hercules") comes USA's newest, highly-anticipated drama COLONY.  Set in the very near future,COLONY centers on one family's struggle to survive and bring liberty back to the people of an occupied Los Angeles.  SAG winner Josh Holloway ("Lost") stars as former FBI agent Will Bowman and Satellite Award winner Sarah Wayne Callies ("The Walking Dead") stars as his wife, Katie, in the series which takes place in a dangerous world of divided ideologies.  While some choose to collaborate with the occupation and benefit from the new order, others rebel and suffer the consequences.  After being separated from their son during the invasion, Will and Katie are willing to do whatever is necessary to be reunited with him.  Thus, when the powerful Proxy Snyder (Peter Jacobson, "House") offers Will a chance to get his son back if he will collaborate with the occupational government, Will and Katie find themselves faced with the toughest decision of their lives.  They will have to go beyond whatever they thought possible, risking their lives and their relationship to protect their family.
[Photo via USA Network]