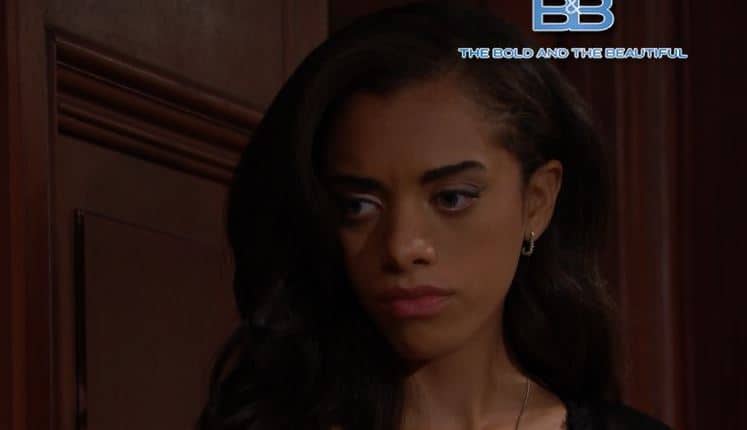 The Bold and the Beautiful fans aren't going to be surprised with our recap. Steffy and Hope are arguing. Hope and her mother are loving one another. Brooke is mad at Ridge for wanting to protect his own daughter and consider her for the things that are going on at work. Steffy is proving herself to everyone. Liam is confused and refuses to take sides. Bill is unhappy and plotting to get what he wants even though what he wants is not for the best of the child in question, and Thorne is inserting himself in the middle of a situation that has nothing to do with him. Only Sally and Wyatt seem happy and in love, and we are all about that. Did we miss anything? Well, we suppose we could provide a few more details for you as the week is drawing to a close. For one, we didn't say a word about Zoe and Xander and Emma.
She's been watching her ex and Emma, and she's making a big move. She wants him back, and Zoe is not stopping at anything or allow someone else to have what she feels is rightfully hers. Being a model for Thorne has only made this situation worse as she now feels even more beautiful and entitled, and she's looking to get what she considers her own stuff in life. She's a mess, and we love it. And then there is the fact that we are going to see Ridge ask his wife for a truce. He wants to stop fighting with her. He wants them to stop putting their grown daughters into the middle of their life problems. He is not about it, and we can't wait to see if she means it when she says she's in agreement with him.
What's Happening on the Bold and the Beautiful
Boardroom Battles & Bedroom Bombshells. 😏 Don't miss a very exciting week of #BoldandBeautiful! pic.twitter.com/5R5JOGPDXY

— Bold & The Beautiful (@BandB_CBS) September 9, 2018
What is he thinking? He knows this woman is as crazy as they come, and he left her in a completely different country to get away from her because she was so crazy. Now he's here and with Emma, who is a perfectly nice girl without any of that crazy stuff going on. So, he knows he's wrong, yet here he is. Why? Why is Xander being like this?
What's Next on the Bold and the Beautiful
We've got boardroom battles & bedroom bombshells this week on #BoldandBeautiful! Keep tuning in all week long. 👏 pic.twitter.com/5R5JOGy2zo

— Bold & The Beautiful (@BandB_CBS) September 11, 2018
What's next is interesting enough. We will see that Brooke is going to meet with Bill. She's all about getting to help him with all that is going on his life, and she's not above that at all. She's in a place where she wants to be there for him, to make sure that things go his way, and she wants to stay with him when he's going through this. She's made it quite clear she feels her own sister, Katie, is wrong to want to take her son from him full time, and she's siding with her ex-husband rather than her own sister. That's a bold thing when you actually took the man from your sister when they were married, but that's all that Brooke does. She takes, she takes, and she takes, and then she finds a way of making sure that everyone apologizes to her.
And now we are back to Xander. Zoe has decided to make it her mission in life to get him back, and she's working very hard to seduce him when she finds him alone. What's bad about this situation is that he wants to be with her intimately. He's attracted to her, but he's conflicted because he also has feelings for Emma and does not want to hurt her. Ultimately, he will do something that will hurt her, and she will end up crushed and unhappy and hurt and all kinds of upset about the way things are going. And that's just who he is as a person these days.
Stay tuned for more The Bold and the Beautiful and be sure to check out TVOvermind daily for the latest The Bold and the Beautiful spoilers, news, and updates.