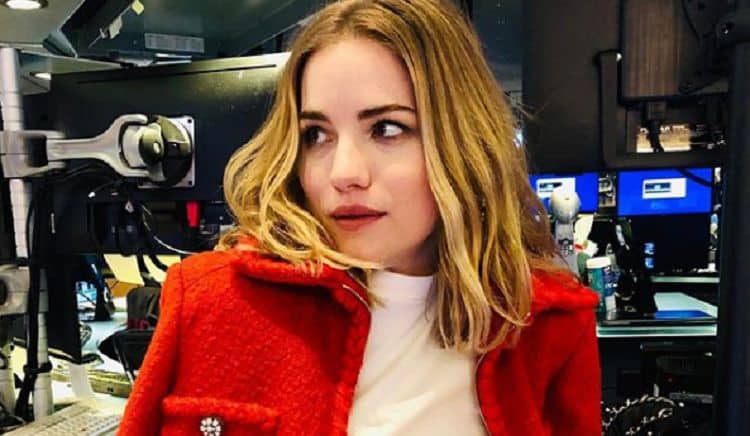 The incredibly lovely and extremely talented Willa Fitzgerald has had our attention for years. We first began to notice her in 2014 when she played a character by the name of Lacey Sutherland on an episode of Blue Bloods. Over the last six years, we've seen more and more of her, and we're certainly glad the casting directors feel the same way we do. Lately, we've been bingeing her in the thriller Dare Me, but we wanted to know more about her. Here are ten things you didn't know about Willa Fitzgerald.
1. Well Educated
Willa is a Nashville native who graduated from private college prep school Harpeth Hall in 2009, according to her IMDB profile. The outstanding school certainly must have been a good fit for her since she graduated and moved on to study at Yale. Willa could have chosen to study anywhere, and many aspiring actresses opt for more performing arts specific schools. Fitzgerald wanted a more rounded education, however, and chose to get her BA in theater studies from the prestigious ivy league school in 2013.
2. Psych
If you're doing the math in your head, then you may have wondered why a woman who graduated prep school in 2009 took four years to get a BA. Willa didn't take a gap year or anything like that as far as we know. However, she did originally study psychology. While psych is undoubtedly a fascinating field, Willa's first love was theater, so she ended up going back to it.
3. Dolly
Country music fans love Dolly Parton, and she certainly holds a special place in the hearts and minds of Tennesseans. Dolly is much more than a singer and actress. She's a literacy advocate who created a program for young children to get books in the mail. Dolly has a big personality and an even bigger heart. Willa told People that the day Dolly Parton sang her famous 9 to 5 for her was the highlight of her life.
4. CBD Advocate
Acting is an unusual profession. Whatever character you play, some fans will assume that the person behind the part is the same as the character, which can get rough on actors who play villains, victims, or any other role someone dislikes. Being on tv has long hours, and it can be strange and incredibly stressful. For Willa Fitzgerald, there's an easy in-house solution. Her boyfriend Gabe Kenedy co-owns Plant People, a CBD business. She's very open about using the incredible substance to help with sleep and stress.
5. Unique Hobbies
Most kids love watching puppets. Yet few of them ever seem to play with them these days. Willa always loved the theater, and she did children's theater in Nashville. Intriguingly, the group she was a part of traveled around and performed puppet shows in parks. Not many modern actresses can add 'Puppeteer' to their list of accomplishments.
6. A Backpack & A Bicycle
Some people are in love with their cars. Others prefer a good motorcycle ride. For Willa, it' all about riding her bicycle. She prefers to get where she's gong on her power. Willa is happy to grab her backpack, some good books, a laptop, and hop on her bike to get where she's going.
7. Doggone Adorable
We're not a hundred percent sure whether Willa owns a dog, but we've seen plenty of pictures of her with a couple of four-legged friends. What we do know for sure is that she loves animals and nature. When she has the time, Willa can be seen outdoors with her backpack, and she does what she can to advocate for environmental causes.
8. Range
Plenty of actors and actresses fall into a pattern of being typecast as just one character. It's especially common in the action movie genre. Willa has never let herself get pigeonholed in that way. You'll see her in Blue Bloods, Gotham, and Little Women. She's well known for her work on Scream (tv series) and lately for Dare Me, but she doesn't seem to fall into any one 'type,' preferring instead to show off her range and capabilities taking roles that suit her.
9. Reading, Meditating & Watercolor Painting
Willa doesn't do puppet theater anymore, at least not so far as we can see. However, that doesn't mean she has no hobbies. Fitzgerald has always been a big reader of books. She loves the classics and always has a novel or two in her backpack and her trailer on set. Plus, when the stress of the day is getting to her, she spends some of her downtime meditating. It's a great way to stay centered and deal with the strange job requirements and hours that come with acting. Moreover, according to Bonappetit, she also keeps watercolors with her, so Willa does some painting. She's certainly a woman who knows how to focus on staying low-stress even in a high-stress industry, and we admire that. It looks like those two years of psychology really paid off, even though she ultimately went another direction in life.
10. Alt Herbal Remedies
It's not a big surprise that Willa Fitzgerald is feeling the pressure. She suffers from polycystic ovarian disorder, which is painful and affects reproductive health. For Willa, it means staying healthy, keeping up with her meditation, and adding the right adaptogenic herbal solutions to her day. At night, some CBD and melatonin for sleep. A smoothie for breakfast makes a great delivery method for some of those herbal remedies. Willa uses vitex, ashwagandha, and Chaga mushrooms to help her stay on top of her health.
Final Thoughts
We certainly enjoy seeing her on the screen, and learning more about Willa Fitzgerald has been an enlightening experience for us. She's clearly multitalented, and we admire her ability to focus on her career while still finding time to make sure her mental and physical health is at the top of the priority list as well. We can't wait to see the rest of Dare Me, and we'll undoubtedly be looking forward to whatever she might do next. What surprised you the most about Willa? Let us know in the comments below.