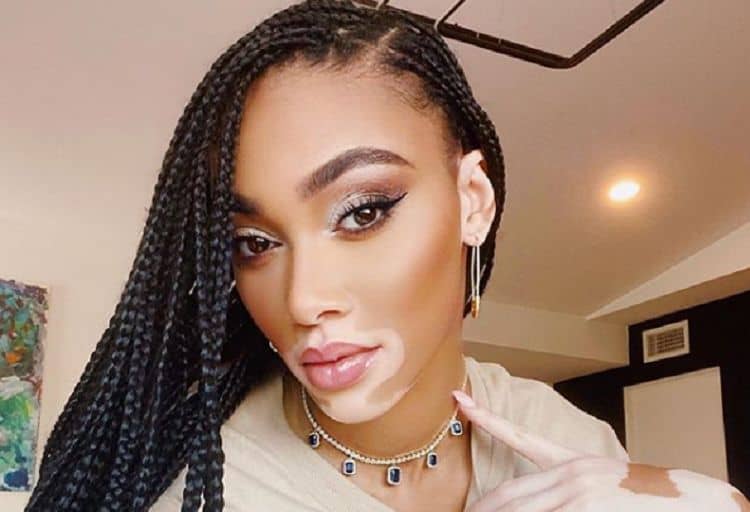 It is hard to believe that one can go from contemplating suicide to becoming the most-talked-about model, yet that it the story of Winnie Harlow. She is only 25 and sitting on a fortune of $3 million, which is bound to grow as she continues her enterprising journey. One thing that sets her apart from the other models is her skin; she has vitiligo. All the same, one day, she hopes to be known as "Winnie Harlow, the model" not "the model with vitiligo." After all, there is more to her beyond the skin, as you shall find out below.
1. She was handpicked by Beyoncé to be in her film
They say we should not turn our backs on anyone, for some have welcomed angels without their knowledge. In the same way, Winnie's destiny was about to change when she was offered the opportunity to be in a film. She did not know that it was Beyoncé's, so she declined. However, Beyoncé's assistant disclosed to Winnie, who was behind the film, and that was all the encouragement she needed. Winnie, therefore, flew to New Orleans, where the film's shooting was taking place; there, she found Zendaya, Serena Williams, and Blue Ivy Carter.
2. She had to be homeschooled to escape bullying
People can be cruel, especially if you do not meet their expectations of what should be. Bullying has become prevalent both on the net and in schools, and unfortunately, Winnie was a victim. Her skin was different from her friends' which invited hateful comments, with some of them going as far as calling her a "zebra." When it became too much for her to bear, Winnie dropped out of regular school to be homeschooled, as she told CNN.
3. She learned how to care for her nails from her mother
Practice may not make you perfect, but it will improve your skills. Winnie's mother was a hairdresser; therefore, Winnie would spend most of her time in the salon giving a helping hand. One of the duties the model enjoyed was doing the nails of her mother's clients, so by the time she was an adult, she was good at it. She got a few tips, and one valuable lesson that she can pass on to her fans is that keeping your cuticles and nails moisturized gives them a beautiful transformation.
4. She kept wishing her condition would go away
Although right now, Winnie is not bothered by her skin, there is a time she would sit by the window looking at the stars and wishing for the skin to be normal. She had already noticed that she was different in third grade, and making friends was a challenge since no one wanted to be near her; their ignorant minds made them think they would catch the disease. The stigmatization resulted in Winnie having suicidal thoughts, but now, she is grateful that she did not act on them.
5. She is the world's first model with vitiligo
At only four years old, Winnie was diagnosed with vitiligo, a skin condition that is characterized by loss of skin pigmentation. A lack of melanin causes it, and only 1% of the world's population has it. Consequently, to have a model with vitiligo walking the runway was unheard of until Winnie did. She became famous after being on "America's Next Top Model," although she did not make it to the finals. Still, the exposure was enough because Winnie has since appeared on the covers of various magazines and high-end fashion labels such as Victoria's Secret.
6. She does not see herself as anyone's role model
Most children will tell you that when they grow up, they want to be like so and so. Winnie does not believe we should try to emulate anyone. Instead, she advocates for people not to compare themselves with anyone. She advises that we all have our paths to take, so instead of trying to copy someone else's journey, we should seek inspiration and make our own trail.
7. Her first kiss was in first grade
We all remember the milestones in our lives, and the first kiss has to be one of them. Although to most of us, it happens later in life, for Winnie, it happened as a child. She had been crushing on a certain boy for so long that when the opportunity came, she did not let it slip past her. They were playing freeze tag, boys versus girls, so she ran out to her crush and pinned him on the floor before proceeding to smother him with her first kiss.
8. She hates to be referred to as "suffering from vitiligo."
When you have a disease or disorder, people will say that you are suffering from it, but Winnie does not approve of anyone saying that she is suffering from vitiligo. She said that it is not right for anyone to label her as "suffering" because she is not. Instead, she believes she is conquering it and living the best life.
9. She denied dating Lewis Hamilton
The media can feed the public with lies when they have a picture to serve as "proof" of the story hitting the headlines. It happened to Winnie and Lewis, who were accused of secretly dating, but Winnie eventually came clean, saying that they were not a couple. According to her interview with Grazia, the model said it was a coincidence that they were even spotted together. She disclosed that Lewis invited her to fly with him in his private jet since they were both headed for New York Fashion Week. The day after arriving in New York, they were seen together at a club, and that sparked the rumors. Gossip mongers even decorated the lies by adding that Winnie and Lewis had recorded a song together.
10. She loves massages
Winnie likes treating herself to massages after a busy week because, to her, they are a necessity and not a luxury. When at home, she will get them done in her house, but when traveling, she will ask for recommendations. One massage parlor she swears by Istanbul's Four Seasons; to her, the experience was terrific.