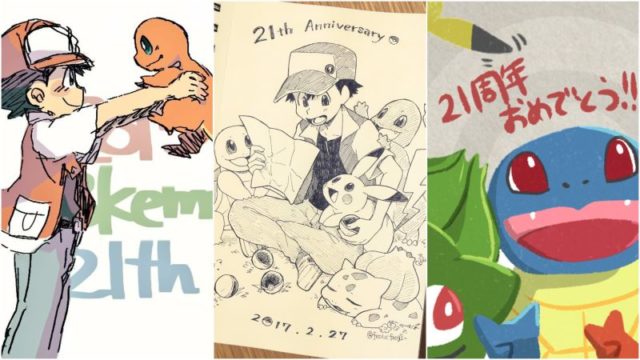 Considering the success that Pokemon has had, it's hard to believe that the series is only 21 years old.  At the same time it's also hard to believe Pokemon is already 21 years old. On February 27, 1996, the first games in the Pokémon series were released in Japan. The world has never been the same.  In Japanese, the games were titled Pokémon Red Version and Green Version, and the series hit North American two years later in 1998. The trading card game wasn't released in Japan until that October. Online in Japan, a hashtag (#ポケモン21周年, which means Pokémon's 21st Anniversary) has been a way for fans to celebrate the day. (via Kotaku).
While I don't think it's necessary to go into an entire history of Pokemon there is definitely something I'd like to point out.  In the grand scheme of things, 21 years is a very short period of time for a franchise to dominate the world the way that Pokemon has.  If you think about other major franchises like Super Mario Brothers, Sonic the Hedgehog or even some Manga franchises, many began their quest in the 80s.
Pokemon took the world by storm and never slowed down.  Also, it's showing zero signs of slowing down.  Happy Anniversary to Pokemon and like I've said before, it's just a matter of time before the entire world turns Pokemon.
Here are some tweets celebrating the occasion
ポケモン21周年おめでとうございます!#ポケモン21周年 #PokemonDay pic.twitter.com/LZbqZ2oDSs

– いぐさ (@ir_ime025) February 27, 2017
Happy 21st anniversary, Pokemon #ポケモン21周年 #Pokemonday pic.twitter.com/BSIuczmXkl

– ZephyrLance (@StygianLance) February 27, 2017
ポケモン21周年おめでとう♡#ポケモン21周年 pic.twitter.com/0Wj48etC0Q

– みお松@ (@miorioJW) February 27, 2017
おめでとう🎉#ポケモン21周年#Pokemon21 pic.twitter.com/kAHXVCG6S0

– ナカハル@ゆるゆるアローラ旅 (@gamenakaharuuu) February 27, 2017
ãšã£ã¨å¤§å¥½ããªæ°¸é ã®ä½œå"ã§ã™(*´ω`*)
自分の推しポケでお祝いします🍒#ポケモン21周年 pic.twitter.com/0Vg4KCIkJY

– æœ‰æ –å·ã'·ãƒ•ã'©ãƒ³ (@ruimon1010) February 27, 2017
今日ポケモン21周年らしいよぉぉぉぉぉおおおおおおおおおおおおおおおー!!!!!ポケモンに出会ってなかったらリザードンに出会ってなかったぁぁぁぁぁあああー!!!!!!!おめでとうぅぅぅうううううー!!!!!!!#ポケモン21周年 pic.twitter.com/65IrLtUFH2

– ポã'±ã'«ãƒ¡ãƒ³ï¼ 最強の人 (@GC5R5OGIKgV0yvz) February 27, 2017
お誕生日おめでとう!!#ポケモン21周年 pic.twitter.com/XNjglkei2x

– あひる (@ahiru2867) February 27, 2017