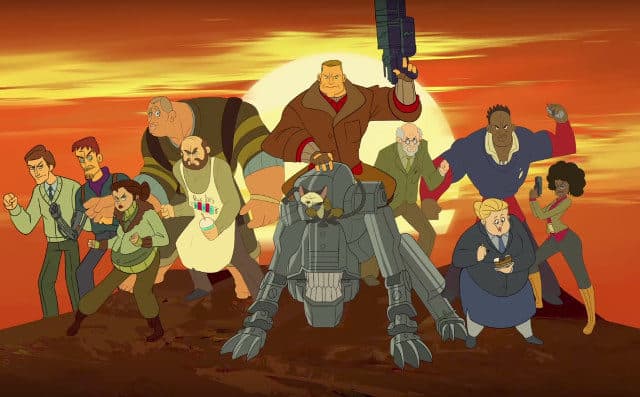 This seems like something conceived in the 80's and finally releases into the 90's Attitude Era when it was cool to get super-aggressive on one's enemies. Wolfenstein is without a doubt one of the more violent games to be released to the public but in a world where violence games have been the norm since the early 90's it's still managing to push the limit and has really upset a few people that seem uncomfortable with the level of violence and, strangely enough, with the targeting of a single race of people.
In case you were wondering what Wolfenstein is all about it's set in a world where the Nazi's won the second World War, and have allowed groups such as the KKK to run rampant in the USA, as they will push their agenda and bend to Nazi rule. Yeah, if you want to talk about messed up alternate realities then this would fit in just nicely. Wolfenstein started out as a PC game and 25 years later it's coming to game systems in all its bloody detail. Despite this however the true message of Wolfenstein is upsetting a good number of people even as the message seems to be something that is brutal, yet unifying in that it speaks out against something that few in this country can stand to talk about without a vague look of disgust crossing their features.
Wolfenstein is about killing Nazi's, plain and simple. If you encounter KKK in the game you take them out as well. Any hate-mongering force that rises to defend their negative view of how the USA should be is to be taken out in the movie and apparently this cartoon. While some people might actually vote against the hate-filled violence that takes place in the game a lot of other people are considering it as a wakeup call to the Nazi's that are living in the US as of now. In essence the game and the cartoon are for entertainment value. A person could watch this cartoon, if it existed, and play the game and then go back to their regular lives when it was all said and done. But subconsciously the effort of fighting against this kind of pointless, unrelenting hatred would remain.
Despite the violence that the game depicts and the way it's moderated in the fictional cartoon clip, Wolfenstein carries a very powerful message that unrefined hatred will not be tolerated. If Nazi's, and unfortunately they do still exist, wish to bring the fight to those that can fight back then it will be a battle that they won't win. The cartoon would no doubt need to be something that could run in a later time slot so as to be more of an adult show but it could possibly gain support with those that like the game and the overall message. As violent as the game is and as controversial as the cartoon could be the whole idea of Wolfenstein is to remind people that while Nazi's are still very real and do exist in the modern world, the hate they spread is not going to be tolerated.