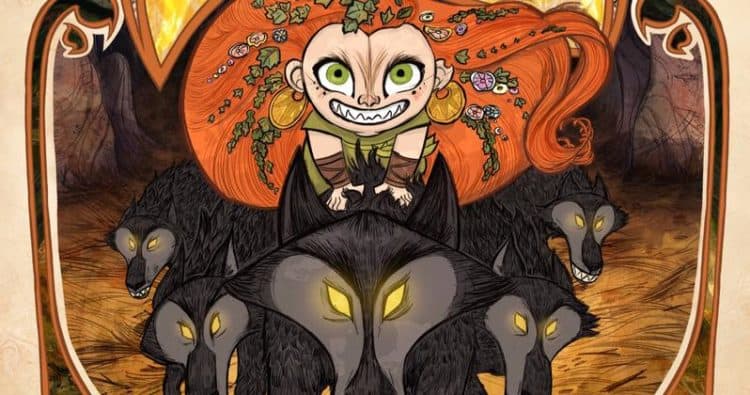 If you're thinking this looks like a fun movie then you're not wrong, and it definitely looks right for the season since the Wolfwalkers appears to be a movie that can truly entertain and possibly teach a very important moral lesson. When Robyn and her father move to Ireland where he is tasked with taking out the last of a wolfpack, she takes it upon herself to wander into the woods beyond the city, where she eventually encounters Mebhe and her wolfpack. Eventually, Robyn learns through her dreams that she too is a Wolfwalker, someone that is a wolf by night in her dreams and a girl by day, which is hard to equate to lycanthropy since to be fair it does follow some tenets but kind of eschews others. But in any case, Robyn and Mebhe grow close, which is a problem since Robyn's father is tasked with eliminating the wolf pack, meaning that Robyn would eventually have to choose between loyalty to the humans and loyalty to the pack. True to form as it shows in the trailer she's not going to choose, at least not in the manner that people would prefer, as she'll be arguing to bring peace between the humans and the wolf pack, something that's been tenuous at best and impossible most other times throughout history.
As a children's story this looks like it could be a very effective movie since it has the elements of fun and responsibility all rolled into one. It does remind me vagely of Brave, even though the Disney/Pixar movie dealt with bears, not wolves. Plus, Merida would have been more like a cross between Robyn and Mebhe, someone that felt the need to be wild but also enjoyed the trappings of civilization as well. But this story feels like another one that might make it clear to children that no one is to be taken at face value since there's so much more to see when it comes to anyone and everyone. After watching the trailer it does have all the necessary elements that would make it a classic in the making since so many kids' movies are given roughly the same treatment as they create a mysterious meeting between at least two of the characters, then a threat that has to be understood to be overcome, and of course, a friendship that overcomes the inherent distrust that exists between two very different societies.
The slate of movies that is currently being announced is already starting to impress, and while a good number of them aren't going to be available until next year, it does give some people hope that 2021 is going to be inherently better than 2020, which has been set upon by a host of problems that appear to keep coming no matter how much people keep their heads up. Wolfwalkers looks like the kind of movie that some folks might pick at in order to find a few problems so that they can say why it's not really fit for kids, but from a first glance it looks like something that's going to be a lot of fun to watch and could be something that kids of this generation will remember when they grow up. If a person thinks about it, there are a lot of movies that a lot of us can remember from our youth that wouldn't be readily remembered at this point, and a lot of them meant something to us when we watched them, even if we grew up to forget them eventually. The story itself looks like something that could be entirely endearing to children since it looks to spell out the difference between people and to reconcile those differences by giving young Robyn a different perspective that will change her mind in the way that movies usually do. The message that kids are able see things clearly when they're given a glimpse of life from a different viewpoint is pretty obvious, and it's just as obvious that the adults are going to argue this point down since they don't want to admit that their ways might be a little archaic and not quite as effective. This kind of message is something that we tend to see in the movies quite often since it's one that people want to continually drum into the minds of those that watch, particularly children, who need this lesson as they continue to grow.
The idea of judging people before getting to know them a failing that many people in this world have, and it's something that, in the movies, comes with just as many disastrous results that have been seen over the years. Usually it takes a pretty big catastrophe to set things right, and in this case it might take something rather drastic, which is just one reason why this movie should be worth watching.