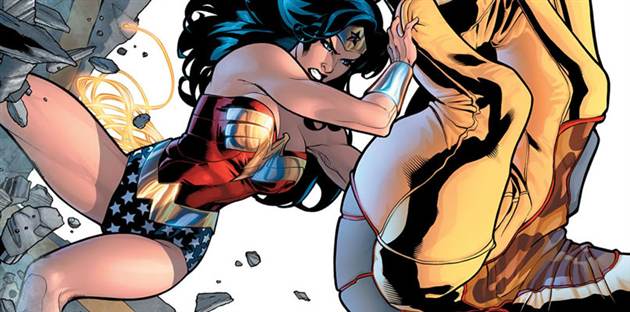 Why can't Wonder Woman find anyone to love her?
I'm not speaking of the character herself, but of the stagnant, languishing attempt to bring her star-spangled presence back to any screen, big or small.
In an interview with Zap2It, the recently announced stab that David E. Kelley was planning to take sounds like it's not gelling as rapidly as fans would like, with Kelley admitting his hesitation as to whether or not he is the right man for the job.
My opinion is that if you have to question whether or not such a beloved property with an enormously devoted fan base is your cup of tea, the best thing you can do for the fans, and yourself, is to back away slowly. No one wants to see yet another failed attempt at bringing a well-regarded superheroine to life. If you aren't 100% convinced you can bring your A game, let someone with the confidence, not to mention a proven track record in the lady-led, sci-fi genre, do it. Joss Whedon/J.J. Abrams – I'm calling your names.
Personally, I don't get why the Amazon Princess can't come play with the big boys as a feature film? She's got more name recognition than Green Lantern, Iron Man and Wolverine. They all have their own franchises in the movie arena, yet there's no room for her to stretch her lengthy legs right along side them? If there were ever a chance at making a success with a female-driven superhero franchise, it's Wonder Woman. I'm confident she could successfully draw large audiences, if tackled appropriately.
If TV is her ultimate destination, I have but a few requests:
– Steer clear of the cheesecake. It may have served the 70's well for Lynda Carter to prance around in her underwear to titillate audiences, but this is 2010. We've grown up.
– Focus on the strength of the character. She's an Amazon Warrior whose abilities rival Superman's for pete's sake! Give her the heft she deserves.
– Cast appropriately. Unknowns are fine, but make sure she's looks the part (no I'm not just talking about boobs), and can, you know, ACT.
– Mythologize the heck out of it. Despite what the ratings may indicate, fanboys and girls alike want the mythology. Your only chance at developing a hardcore fan base is to include overarching stories in amongst the weekly challenges.
– Weave in various other DC properties. It served Smallville very well to do this in the last few years.
– Cast Lynda Carter as Hippolyta. Not mandatory, but would be a nifty little nod to the past series to include her in a recurring role.
What do you think? Should David E. Kelley hold on to the prospect, even if the project continues in limbo for a while longer? Or should Warner Bros./DC pursue someone with better credentials to start hammering something out now? Sound off in the comments section below.