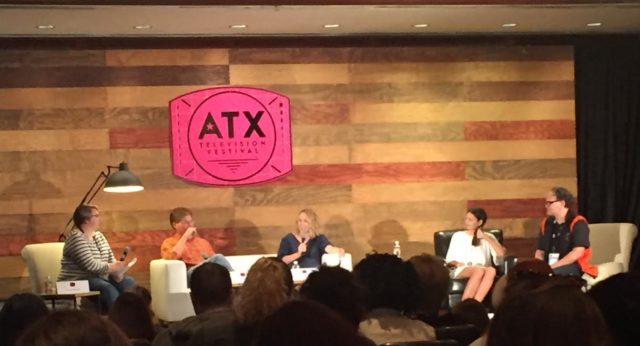 Catharsis was the word of the day yesterday, at least for an hour at the ATX Television Festival. Â In the 'Too Close to Home' panel four writer-producers talked about how they took their personal (often painful) experiences, bounced them around the writers room and turned them into scenes, subplots or episodes. Â Natalie Abrams from Entertainment Weekly moderated the panel consisting of Liz Tigelaar (Life Unexpected), David Hudgins (Friday Night Lights), Javier Grillo-Marxuach (Lost), Robia Rachid (Atypical).
Ms Tigelaar discussed her experience growing up adopted in Dallas, TX in the 1980s. Â When she realized she'd been adopted, her parents told her she'd been born in Washington, DC, but they didn't know who her biological parents were. Ms Tigelaar said the only woman in Washington, DC, whose name she and her mother knew was Nancy Reagan. Â "Nancy Reagan could be my mom!" Well, not really. Â Half way through making Life Unexpected she realized the show was her story. Â She hadn't really understood the material that way for a long time and suddenly it came into different focus for her. Â Between seasons, Ms Tigelaar went and found her birth parents.
Mr Grillo-Marxuach talked about moving from Puerto Rico to Michigan in middle school and how English was not his first language. Â When the producers of Lost handed him a multi-episode subplot about Korean characters, he drew from his fish-out-of-water experience in his youth to write for Daniel Dae Kim and Yunjin Kim (no relation). Â The language and cultural milieu were different and this was a case where the actors partnered with the writer in developing the story line. Â But it was the shared experience of moving to America in their younger years and learning a new language and learning about a new culture that led to that arc.
I just have to interject here. Â As I write this, I'm sitting in the lounge of the Stephen F. Austin hotel on Saturday afternoon. Â Entertainment Weekly is doing photo shoots and signalong videos behind me. Â Ronald D. Moore, Mary McDonnell and Edward James Olmos just walked in, two feet from me. Â EW took photos. Â I'm so glad the EW people didn't make these icons sing the Brady Buch song. Â More from these three later.
So, back to yesterday and the panel. Â I asked a question about writing from joy rather than pain. Â Mr. Hudgins and Ms Rashid answered.
Mr Hudgins told story from Friday Night Lights he called 'Mudbowl.' He talked about one episode that was so much about the joy of the game of football. Â They shot on location in a field outside Austin, TX. Â Production team brought in rain cranes, because the weather didn't cooperate. Â But they made the field muddy and the players ran plays in the rain and the muck and the episode just celebrated the joy of athletes giving their all to their sport.
Ms Rashid told a story about an unproduced film script she wrote called 'Werewife.' While she was planning her wedding, Ms Rashid was in a very happy and secure place with her fiancé.  They were very confident in their love and very optimistic about their future.  This happiness and optimism allowed her to consider how people change after their weddings.  Fairytales like Cinderella end with the wedding, but in real life, the wedding is really a transitional moment in a couple's relationship.  People grow.  People change.  Sometimes they hid things from their past.  In her script, the wedding is the beginning.  During the honeymoon, the wife is bitten by a werewolf and then she and her husband spend the rest of the story dealing with that.  But to Ms Rashid the whole script was a metaphor for how people change after the wedding.