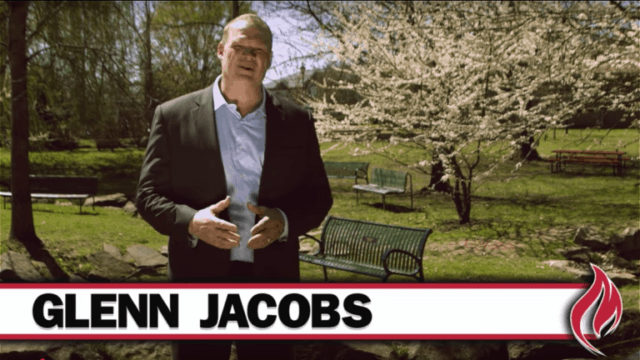 While I and many people will probably be using the name "Kane" for as long as we live, get used to the name Glenn Jacobs, especially if he wins the mayoral race in Knox County.  What I find particularly amusing about Jacobs is that while you might be able to take the man out of the WWE, you can never take the WWE out of the man.   Guess what Glenn's campaign slogan is? Amazingly, Kane's slogan is "lighting the way for our future," and the logo for his campaign is a flame.
If you'll recall, fire was a part of Kane's repertoire in the WWE.  Didn't he have an inferno match or at least challenge someone to one?  Maybe his premiere political video is just buttering people up for what's really to come.  Because as of right now, seeing Kane with birds chirping, trees in the background and him ready to sit on that park bench over there, I'm not getting too excited Glenn.
You know that if he's down in the polls he'll definitely resort to wearing his WWE costume at some point during a debate.   I refuse to believe this video is serious…..yet.