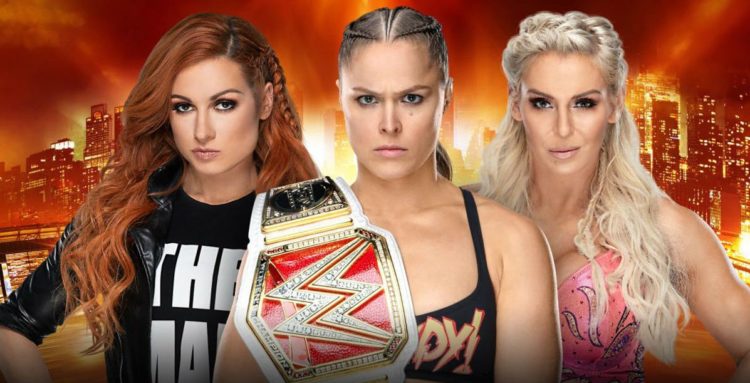 It's enough to make you want to shake your head when you think about the implications of the coming main event between "Rowdy" Ronda Rousey, Becky "The Man" Lynch, and Charlotte "The Queen" Fliar. Don't get twisted into thinking that a main event match with three women is anything to laugh about or be amused by, since the match itself is going to be off the hook since all three women have shown that they have what it takes to bang each other around the ring like pinballs and even take it outside the squared circle in order to make their point felt. But the WWE calling ANYTHING the 'first time ever' has become something of a running joke since it seems to bank on the idea that its fans are unaware of the history that has led to the current era they're in and the very serious nature and role that women have taken in the company.
You'd be right to say that women were woefully underrepresented in the WWE way back in the day since there weren't even half as many back then as there are now and the talent wasn't being nearly as as sought after as the company is now doing with their developmental programs. But before we go off thinking that this coming triple threat match at Wrestlemania 35 is the absolute first of its kind let's keep in mind the history of women in the WWE from the days when it was still the WWF. It's very true that the women's title might not have been seen as prestigious as the men's title and it's true that the matches for the belt haven't always been main events, but they've been lauded as important matches all the same and trying to put as much hype on this as possible is, in some ways, an attempt to say that the matches that came before were just building blocks and not great in their own right.  A lot of folks would gladly point out that women have been poorly represented in main events, but then it would seem that some might have forgotten about Wrestlemania 34 when Kurt Angle and Ronda Rousey took on, and defeated, Triple H and Stephanie McMahon. Was it a main event? Maybe, maybe not, but it was a representation for women that seems to be ignored in light of this upcoming match that's more of a culmination of the women that have been working hard throughout the years to make sure that such a match could happen.
Here are just a few other matches that you might want to think about, not all main events but definitely big deals in the history of Wrestlemania all the same, if you want to think about just how hard women have been working to get to the top of the business and how far they've actually come.
Charlotte Flair vs. Asuka (WrestleMania 34)
Bayley vs. Charlotte Flair vs. Nia Jax vs. Sasha Banks (Wrestlemania 33)
Best: Charlotte Flair vs. Sasha Banks vs. Becky Lynch (WrestleMania 32)
Victoria vs. Trish Stratus vs. Jazz (WrestleMania XIX)
Alundra Blaze vs. Leilani Kai (WrestleMania X)
Obviously not every match was THE main event but each one was a big step forward for women that has been used to build the momentum that has finally come to WWE when it comes to the women's division and the strides they've taken in building their ranks and even gaining enough women to field a tag team division. And more and more women are growing interested as they make their way into the ranks, creating more of a buzz and a lot more content for the show as they continue to pour in.
There's nothing to take away from the upcoming match in terms of thunder or glory as it's going to be a fight to the finish no doubt that many people are going to be watching with great expectations of who will finally have their hand raised at the very end. In a real fight honestly Rousey would likely drop both Lynch and Flair and make them tap within seconds, but in the ring she's going to have her hands full since this is the show, the dance, and this is where the immortals are allowed to cement their legacy. This is where The Man, The Queen, and Rousey will finally get to put to the test just whose reputation is the most well-deserved and who is going to walk out of the biggest show of the year with the belt, not a Diva's butterfly belt, but an honest to goodness and hard-earned strap of gold around their waist that shows everyone just how determined they really are.
This is the top of heap, where women want to be, and it's all about who can take the spot, or keep it.