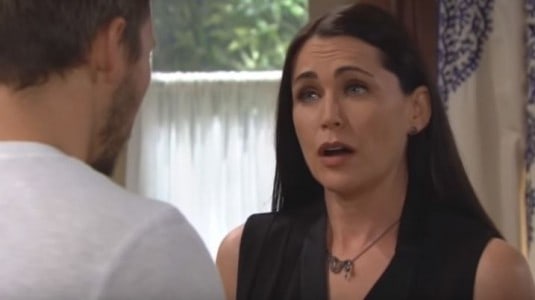 Friday was a day of very strange and surprising couples on the Bold and the Beautiful. It feels as if it was only a few moments ago that Steffy was happily engaged to be married to Liam and marital bliss was their next step. Then it wasn't. Suddenly it is all Wyatt and Steffy all the time and in an even bigger and more surprising turn of events, we're also seeing that Liam and Quinn are becoming closer. He thinks they are married. Wyatt, however, could not be happier. He is where he wants to be in life; in Steffy's arms. Back on the beach, they take a walk and he stops her to tell her that he has feelings for her. He kisses her and tells her just how unlike Liam he really is. He promises never to leave her, to never forsake her and to never do anything that might hurt her. He wants her to know that he has amazing intentions and that is all he wants to tell her. Except that he cannot keep his thoughts to himself and he tells her that he wants to spend the rest of his life with her. She is happy, but she cannot help but think that Liam needs to come home. She wants to know where he is.
She doesn't say anything, and she's pretty sure he just proposed marriage to her. She's a little unsure what to think. And then he tells her that she can have some time to think about it, but that he just wants her to know where he stands and what he wants from their very new relationship. The one she's not even sure she wants to be involved in at this point in time since she actually still loves her ex-fiance. Meanwhile, her ex-fiance has no memory of her or their life together. He is stuck in a cabin with Quinn believing that she is Eve, he is Adam and that they are a married couple. He asks about his ring, she tells him that he doesn't like to wear it and he tells her he'd like to change that. He's sorry he doesn't remember her, but he knows that she is important to him and that must be because she is his wife. We have to wonder what on earth Quinn is thinking right now as he says things like this. She's got to be laughing on the inside.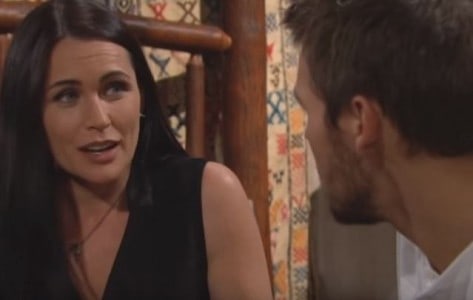 Instead, she tells him that they are close, they have no kids and that she will stick by him even when he remembers nothing. They speak a bit, and he thinks he might have a bit of a memory about them eating a lot of Mexican food when he hears the commercial for a Mexican restaurant on the television. She tells him that they've meant a lot to one another over the years and stops him from kissing her. However, he tries again and she lets him. That's when things begin to heat up. Of course, she's just sent Bill a text from Liam's phone telling him that he's traveling the world right now and that he needs more time alone to digest what has happened to his life.
Bill gets the text, and he also tells Katie that women just love him all the time, so she shouldn't let her sister bother her with her feelings. Katie tells him that it's inappropriate at all times but the fact that she is her sister should make Brooke realize just how inappropriate it is for her to profess her love to Bill. She's not happy and Bill's joking isn't doing anything for her at the moment. She's still furious with her sister and she is not looking to reconcile despite the fact that Bill tells her that it will be all right and that they will make up. He hopes. He's got do so something to get his wife to forgive her sister. If he does not, he is going to realize that he can't see Brooke anymore. It's far easier for him to be in her life if she is in Katie's life, and he has to find a way to make sure that Katie forgives Brooke so that he can still have her. He is clearly not interested in Katie's feelings as much as he is interested in his own. Typical, of course, for a man who is not willing to help his sister-in-law get out of trouble with her sister so that their family can stay together.
Photo Credit — YouTube