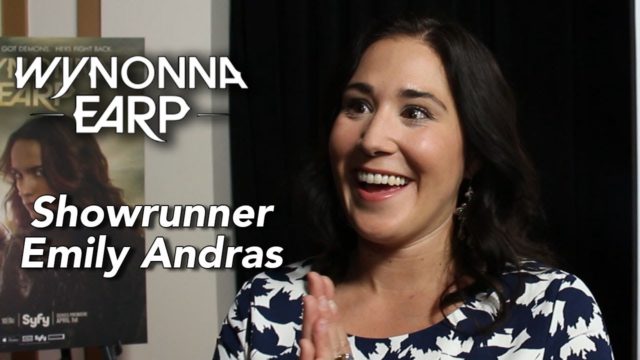 Wynonna Earp executive producer Emily Andras shared some hints and thoughts about character development in her show.  Ms Andras spoke at some length with EW.com.   For those of you new to Wynonna Earp, the show follows the adventures of the titular heroine, her sister Waverly and their loyal, immortal friend Doc Holliday — yes, that Doc Holliday.   Wynonna is the great-great-great granddaughter of legendary old west lawman and gunslinger Wyatt Earp. Only Wynonna can destroy revenants of criminals her ancestor put down.  Wynonna, Doc and Waverly work together with their friends and a secret organization called Black Badge to protect their town, Purgatory, from demonic and supernatural threats.
Wynonna and Doc.
First, Ms Andras shared some insights on Doc Holliday and Wynonna. Â "They are so similar in temperament. Â They don't hate the violence and the action and the grit. They get off on that. They're not sure that, deep down, they're good people," said Ms Andras. Â  "….it's almost too honest, just because they're mirror images of one another in so many ways. But Wynonna, more than ever, needs people who are going to be honest with her and what she's going through and what she needs to succeed." Â At the beginning of season two, Wynonna and her sister Waverly are still coping with Wynonna having had to kill their oldest sister in the season one finale. Â Plus they've lost their teammate Agent Dolls to pursuit by Agent Lucado. Â So, it's very helpful to her to have Doc's honesty (with her) and his intuitive understanding of her feelings.
Ms Andras added more about Doc and how well understands Wynonna, "He almost reads her [feelings] better than she reads herself. He definitely knew last episode that them going for a …[[Spoiler]]… was just not a great idea. It just didn't come from a really genuine place versus a broken place. I like that he's mature. He's 150 years old."
WayHaught
Ms Andras also talked about Waverly and her girlfriend, Purgatory Police Officer Nichole Haught. Â "Nicole's emphasis is to make Waverly happy and support her. It was so nice that even though they had their first fight, it only made them closer and stronger…. It's starting to feel like a real relationship. They're … really connecting. I love that. Â Ultimately it was a fight about Nicole's career; she's been denied a promotion [at the Police Department] that's really important to her, which just serves, again, to make Nicole more of a three-dimensional character." So, even though we have a show about secret organizations and hunting demons, revenants, ghosts and other supernatural threats, the showrunner wants to ground it in real human drama. Â  "Also, that's what couples fight about. They don't just fight about being lesbians or being gay or fighting demons. They fight about taxes and dishes and career and different wants and needs."
Ms Andras wants to develop her characters, give them real hopes and dreams, real personal conflict. Â  "It's always been really important to me that they're … three-dimensional characters who have real relationship challenges both supernatural and natural." Â Real drama and real characters will help to keep the show accessible to a wider audience.
Wynonna Earp season 2 airs Friday nights on Syfy.  Check with you cable or satellite television provider.  Season 1 is available on iTunes and Amazon video.  Stay with us for continued coverage through the summer.
Save