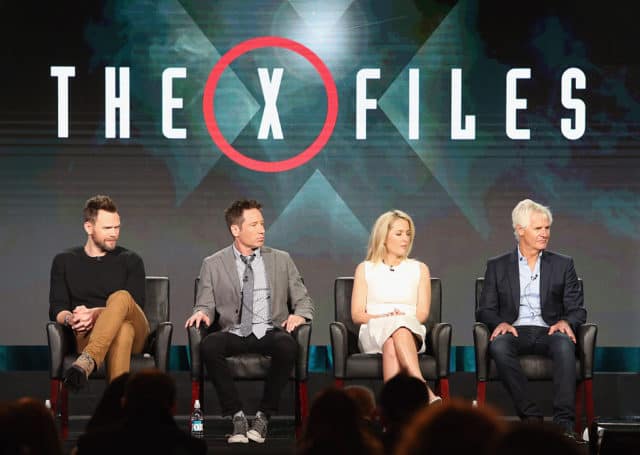 X-Files creator and executive producer Chris Carter has announced the names for his writers' room on the latest X-Files revival season.  That would be season 11 for those of us out there keeping score at home.  The X-Files season 11 will consist of ten episodes, and series stars Gillian Anderson and David Duchovny will both return.
According to a TVLine exclusive scoop, series creator Chris Carter has arranged for several fan favorite, X-Files series veterans to return for season 11.  Mr Carter will be joined by famed producers and series veterans Glen Morgan, Glen's brother Darren Morgan, and James Wong, as well as some relatively fresh faces.  Season 10 writers' assistant Benjamin Van Allen and seasons 9 writers' assistant Gabe Rotter both got the call to move up from the minor leagues.  Mr Carter's personal assistant from seasons 8 and 9, Brad Follmer rounds out the writers hired for The X-Files season 11.
Fan favorite X-Files veterans not returning for season 11 include Vince Gilligan and Frank Spotnitz. Â Mr Gilligan, who is admittedly very busy with his own show Better Call Saul, hasn't heard from Mr Carter, or Fox network regarding a return for X-Files season 11. Â Neither has Mr Spotnitz, whose Big Light Productions is currently making Ransom for Canadian television and Medici: Masters of Florence with Dustan Hoffman for Netflix and several European channels.
Glen Morgan and James Wong will be familiar to science fiction fans as the producers of the shortlived and fan loved Fox series Space: Above and Beyond. Â Horror fans will know them as creators of the Final Destination film franchise.
Fans can expect Mr Carter to write and direct the season premier and finale episodes. Â Glen Morgan will reportedly write and direct two episodes. Â Mr Wong will also write and direct his own pair of episodes. Darren Morgan will write at least one additional episode. Â Considering Darren Morgan's episode of The X-Files season 10, Mulder and Scully Meet the Were-Monster, is widely regarded as that season's top episode, he may write more than one episode of season 11.
Mr Rotter worked as a writers' and producers' assistant on The X-Files original run and The Lone Gunnmen.  He received producer credits on The X-Files season 10 and Mr Carter's pilot for Amazon Studios, The After. Between his work for Mr Carter, Mr Rotter has published two novels through Simon & Schuster. Mr Van Allen has worked around Hollywood as a production assistant and also returned with Mr Carter make The After.
The X-Files season 11 will hit the airwaves and cable on Fox network early in 2018.  TVOM will continue to provide coverage right here, so remember to drop by and check in.
Save