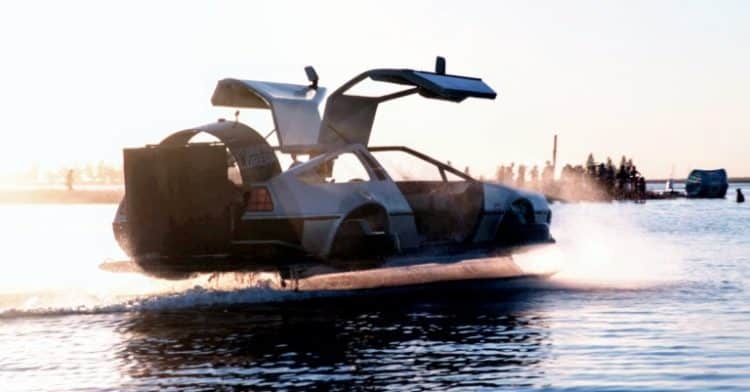 At this point the Delorean hovercraft has already been auctioned off most likely but if you had an idea of how awesome this could be you might also want to listen to just how limited it might be as well since if you'll notice there weren't a lot of heavy folks getting on to take a ride. That's probably for the best since it would seem that a stripped-down frame that was being held aloft by basically a giant cushion being filled with air likely wouldn't last too long if the maximum weight limit was exceeded or even pushed to a degree that it wasn't ready for. Oh no, that's not to say that it couldn't happen at all, it's just that the craft might not manage to reach its top speed of 31 mph. Overall it's a very cool idea and seems like something that someone with an artistic lean and an eye for engineering and way too much free time would get into since it is highly creative and looks like a lot of fun. But the reality of it is that this craft likely wouldn't hold all that much weight and can't really go beyond two passengers on a regular basis, either for safety or practical reasons such as a weight limit. Jeff Peek of Hagerty has more to say about this subject.
Some people can't believe that the hovercraft went for a little over $44,000, but in truth that seems pretty high, especially since it was basically a hollowed-out shell that was designed to be as light as it could be to run as it was intended, the price was kind of exorbitant. Oh yes, I did say it, the price was a little high considering that it was mostly just a shell of a Delorean with a cushion on the underside and a giant fan with rudders attached to the back. It's definitely a wonder of engineering and looks like it would be a lot of fun to cruise around in, but it also doesn't look like the type of craft you'd want to take down a regular road for fear that something would puncture the cushion and therefore make it essentially useless. Whoever decided to buy this vehicle likely was doing so because of the nostalgic idea of it and not necessarily the ability to cruise across the waves or the beach as much as one wants. Plus, do you get the impression that even in southern California, or wherever the craft might be bound for, that the local authorities would frown on this? After all there didn't look to be any seat restraints and it does seem as though it might take a skilled driver to actually guide the craft. If you notice one woman giving her feedback actually stated that they cruised right into a boat, which might seem funny to some folks but likely wouldn't be too cute to the owner of the craft since metal does tend to leave a mark when impacting other materials. Hopefully the damage wasn't that bad and it was just a gentle collision due to too much drift. Steve Huff of Maxim had a bit more to add to this story.
Oh darn, am I being a negative Ned? Honestly I don't mean to be since this is a very cool creation, but it's not all that practical. Were it to be seen on a lake or in a bay it does seem as though the operator might find themselves in a bit of hot water with local authorities simply because unless it's a licensed craft and unless there's some precedence that could be cited about cruising around in it, the owner could find themselves in a spot of trouble. Cool as it is, it's a little more than a flotation device and would no doubt be subject to a few regulations that the creator was hopefully thinking about when making this impressive craft. It does seem as though the creator might have given this some thought since tooling around the bay might have been next to impossible if not for such considerations, even if stars like Jay Leno wanted a cruise and could vouch for the creator. It definitely managed to get a good deal of attention, but like it or not, artists aren't exempt from the law when it comes to how their creations are being displayed, meaning that if he was going to go skating around the bay on the craft it's likely that he was willing to take the risk of being stopped or had already filed away the proper paperwork and gotten the permission he needed to be on the water in this contraption. It might seem like an impediment to artistic integrity but at the same time even artists need to realize that they're not above the law just because they create something so insanely impressive. The fact that it went for what it did is equally impressive, but kind of a head-scratcher as well. Gregory Thomas of the San Francisco Chronicle can give you a deeper look into this matter.