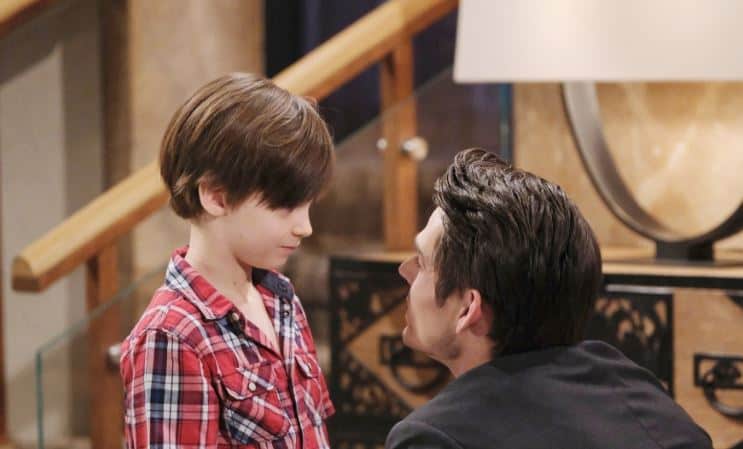 Young and the Restless fans are always a little sad for Abby. No one really accepts her for who she is. She is a young sibling in a family of siblings who are the children of the woman who is married to the father they all share. Her stepmother is not amused that she came along as a result of her father's infidelity with her mother, and she's not always welcome in their lives. She is left out of a lot. She is not always welcome to join in the grownup conversations they have, so to speak, and she's always a little left out. As a result, she's always been a bit immature. Her own mother is a little too focused on her own life to bother with her daughter more than she absolutely has to, and we are just happy to see them bonding a little. It might not be a lot of bonding they are doing in this moment, but it is sweet.
And, then there is Victor, who is doing the ultimatum issuing thing again. They are always in the middle of things that aren't good for them, and it's never good. But, he's a man who likes it his way, or the highway, all the time. He's a man who likes to have things go as he sees fit, even when he is not really capable of making that happen because of his own health. However, we do know that he is struggling significantly as a result of what is going on. Jack, on the other hand, is on a mission, and he will succeed. He will get what he wants. He will focus on things that he needs, and he will probably succeed. He will probably get what he wants and see it happen.
What's Happening on the Young and the Restless
Phyllis has a lot of work to do. #YR pic.twitter.com/EmcS1Nc888

— Young and Restless (@YandR_CBS) August 13, 2019
We just love Michelle Stafford.
What's Next on the Young and the Restless
Even cold feet can't hinder true love. ❤️ It's the wedding of the year this week on #YR! pic.twitter.com/mOIV0c3jnN

— Young and Restless (@YandR_CBS) August 11, 2019
Sharon needs to get her life together. She's a mess, and she is making some people very miserable. She knows she has serious feelings for Adam, and she knows she slept with him just a few days ago. She also knows that Rey is in love with her and wants to be with her, and she knows that Rey doesn't approve of her life with Adam. He's not someone who wants to be with a woman who has feelings for another man other than himself, but she's sleeping with Adam in the background. He doesn't know that, of course. But, there is a moment when we have to ask ourselves why she is being so selfish? She is in love with Adam, but she's about to make up with Rey and be with him despite the fact that there is so much going on. It's not fair to him.
And then there is Summer, who is about to find out that there is a big secret going around Genoa City. It's a secret that belongs to Kyle, who is about to marry Lola. Can she use this information to get what she wants and potentially work for herself? Can she use this information to get what she needs out of life and to get her life together? Will she use it? She wants to be with him, and she's someone who doesn't really care how others feel as long as she's happy, so she might. Or will she? We aren't sure how this information will make her handle life.
Stay tuned for more Young and the Restless and be sure to check out TVOvermind daily for the latest Young and the Restless spoilers, news, and updates.