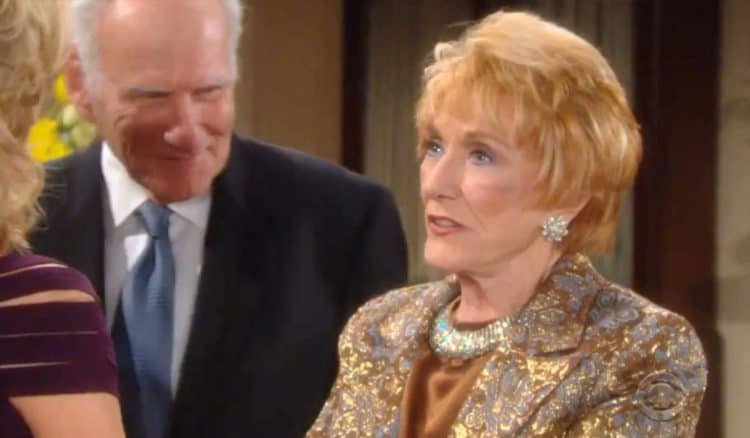 Young and the Restless fans know that Katherine Chancellor is a woman who will never come back. She passed in 2013, and she didn't get to come back and reprise her role as a result of her death. We miss her so much, and we know that she was one of the most amazing, greatest characters that this show ever had in their history. This is nothing short of true, and the fact that CBS chose to make her the theme for this week's theme week was a good choice that brings a lot of happiness to all of us. As a result of theme week, we are taking it upon ourselves to learn a few fun facts we did not know about Katherine Chancellor, including the things that you thought you knew.
She Was the Show's Longest Running Character
She came onto this show in 1973 with the hope of helping raise the ratings that were falling regularly. The show simply wasn't performing well, and everyone was a mess because of it. They knew they were relying on her to make things work for them, and she did just that. She came on the show, and she left as the show's longest running character in 2013. That was six months before her 40 year anniversary on the show.
Her Death Was Five Days After her Goodbye
When she departed for good, it was on May 3, 2013. She died on May 8, 2013. Her death was something that shocked and crushed everyone in the world who knew her, especially those who had the pleasure and the privilege of working with her. She made so many friends and was part of so many memories, and her loss is one that hurts everyone still. The actress was so close to those she worked with. The character was so beloved by so many no matter how many times she did bad things and was horrible to those around her. It was a crushing blow to so many who were sure she would just live forever with her fabulousness. Everyone still misses her so much.
She's Daytime's First Extreme Makeover
We thought that there were some extreme makeovers in the early 2000s, but people forget that she had a facelift on television. You see, Jeanne Cooper is the actress who played Chancellor, and she got a facelift in real life. She allowed the show to film part of it and make it part of her storyline considering she was going to be using her newly improved face on television, anyway, which makes her the first official extreme makeover on television. She rocked the boat, and she showed the world that you can do anything you want and change every taboo imaginable if you just work hard enough at what you do. She wasn't afraid to make waves, and that is a beautiful thing.
She's Credited for the Success of the Show
If we didn't tell you five times already, allow us to do so again. There are many who credit her with changing the course of this show and keeping it on the air. The ratings were low. No one was watching, and it didn't seem like the show was going to make it. Until she got here, that is. She changed that game, and she did it well.
She Was Only Signed On for Three Years
She was already a working actress with a long history of being amazing when she was asked to be on the show. She did not have to audition for the role, either. She was called by the creator the show himself when he realized that the ratings were low, that people didn't care for this show, and that it needed some serious drama. He knew of her and her work, and he called her to see if she'd be interested in getting the ratings up for him with her dramatic flair and likable personality. She did it with a three year contract, but she couldn't go after that. They would never allow it because she loved it, they loved her, and fans loved it all.