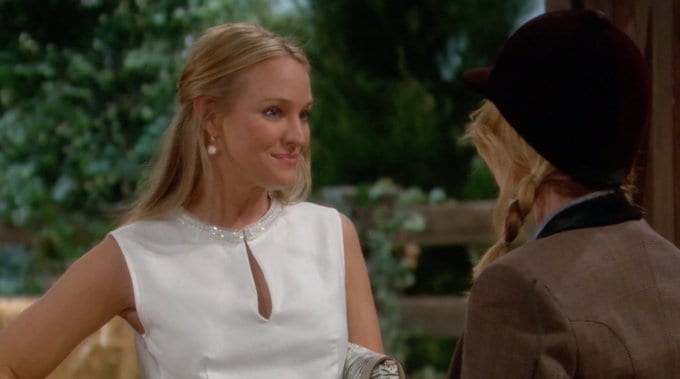 Young and the Restless fans love Flashback Friday, and this week is no different. The entire week has been all about the flashback part of some ugly relationships. This has been all about the rivals around Genoa City, and we can say with absolute certainty that there are plenty of those, right? There are so many people who just do not like one another, and we are there for that. Today, we get to back to 2014. It's only six years, but it feels like a million years. It's the day when Hilary and Lily have a fight and make some big issues for one another. Sharon is not happy with the fact Mariah is back looking like her dead daughter and all of that, and Nikki and Paul are not happy when Ian Ward makes an appearance and things start to remind them of their long ago past. That's never good for them. But, we want to take some time to look back at Lily and Hilary and their hatred for one another.
She was Fairly New
She only came in a year before this all went down, and she came in with a serious vengeance. We all thought she was just the new assistant to Cane, and that was fine. But, that was not at all what it was in her life that was going on. She came into town with some serious problems aimed right at Neil Winters that he literally did not know a thing about. She thought it was his fault that her mother was killed. She was doing all she could to ruin his family. She had him take a horrible fall. She drugged her 'boss' Cane, and had him fall into her bed to make it look as if she slept with him and he cheated on Lily, the daughter of Neil. It was all a mess, and that is why these two never got along.
The Marriage
We don't even know what the heck happened here, but she eventually decided she was done with her vendetta against Neil, who then forgave her. Not only did he forgive her, he actually married her. She did not love him, but she was looking for someone to have in her life, so she was good to go with that one. But, she had feelings for his son. So, while she was married to Neil, she was sleeping with his son, Devon, who was fine with things. Lily, on the other hand, did not think that this was at all amusing after being her own target for some time. Her father eventually ended his marriage to Hilary, who then went on to marry Devon. That didn't work, either. Her hatred for his sister was hard on him, and they didn't make it work. Hilary spent many years working hard to make sure that everyone in their life was miserable, but mostly that Lily was miserable.
The Reconnection
Despite the fact that Hilary worked hard to make sure that her boss was drugged and that he actually did sleep with another woman, Devon fell for her again. You see, she tricked Cane into sleeping with another woman when he was drugged, and he got her pregnant. That was horrible for Lily, and things did not work out. During childbirth, the woman who was pregnant died, then Cane had to raise his son, but Lily struggled with that. She eventually forgave everyone for this, and she fell for the child and decided to raise him as her own, but that was when she and Hilary were involved in another situation.
She and Devon were trying to have a baby and be a family, and Lily did not like it. She and Hilary had a fight, they were in a car accident, and things did not go well for them. Lily was to blame for the accident, and it killed the baby Hilary was carrying. That baby was her brother's baby, and then it killed Hilary just after he was able to remarry her on her death bed. He sent his sister to prison for this, and nothing worked for her. The Hilary and Lily fight was one of the worst.