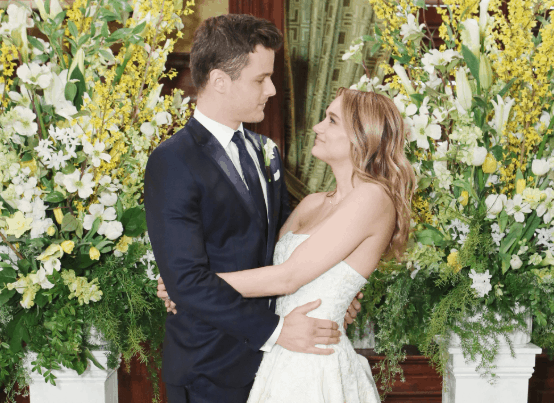 Young and the Restless fans are still not surprised about Mia and Arturo and their time together, but what is the end game for them? What does she want? What does he want? Because he's made it clear that she's not what he wants, but maybe he is wrong. He has, after all, slept with her now twice when he was not really willing to be with her. And this is not the first or second time, either. He keeps falling back into a habit with her, but we think it's because when his life falls apart and he cannot have who he wants to have, he goes back to her. She is his backup plan because he appears to be the kind of man who simply cannot be alone. Meanwhile, Sharon was forced to open up to Rey about her past and her life and what she's been through and caused in the past few years. Adam is alive, and he wants to see her alone. And that is not good news for her, but she has to be honest with Rey.
Devon is getting some mixed signals. He's got some feelings, but he's not sure how they are being felt by others. We know that he's been spending some time with some women lately, but it's Abby we are interested in. She's the woman who seems to notice that he is going through more than we thought possible. She seems to realize that there is more to him than she imagined, and she seems to believe that there is nothing that they can do to make it right but be there for him. She's not wrong, of course, but we do think that there is so much more to this than we can imagine. We love this.
What's Happening on Young and the Restless
Our #WCW this week is the stunning @_Brytni. ❤️ Do you think Elena is a good match for Devon? #YR pic.twitter.com/BbfhdI4fBi

— Young and Restless (@YandR_CBS) May 8, 2019
We love this WCW!
What's Next on the Young and the Restless
Traci takes on a new persona today on #YR. pic.twitter.com/KQpqC7GW9F

— Young and Restless (@YandR_CBS) May 8, 2019
Jack is not happy now that Lauren has found a way to get in his way at work. He continues to butt head with her, and that's just not what he was into this for when he took over his former role at the company. He seems to have some problems with women at work these days. They seem to not want to fall in line with what he wants, and that seems to be a big problem for him. But, we have to point out that he has to get over this and move on in his own life at the moment. On the other hand, we have to wonder if there will be something romantic brewing with them this year. Will they find some time to make this work in the midst of their arguing? That's how he seems to like it when he dates women he works with, after all.
Abby is going to learn a secret, too. What will she learn? Will she learn about the baby? Will she learn that there is no way to know who the father is? Will she learn that Devon might be developing feelings for her? Will she learn that there is more to the Adam thing than anyone else sees happening? Will she learn that Summer and Kyle are not really a couple in a romantic and happy marriage? There's so much she could learn, and we just cannot even begin to understand what she might learn. She might even learn that Phyllis is using her own daughter for her own personal gain. There's too much.
Stay tuned for more Young and the Restless and be sure to check out TVOvermind daily for the latest Young and the Restless spoilers, news, and updates.