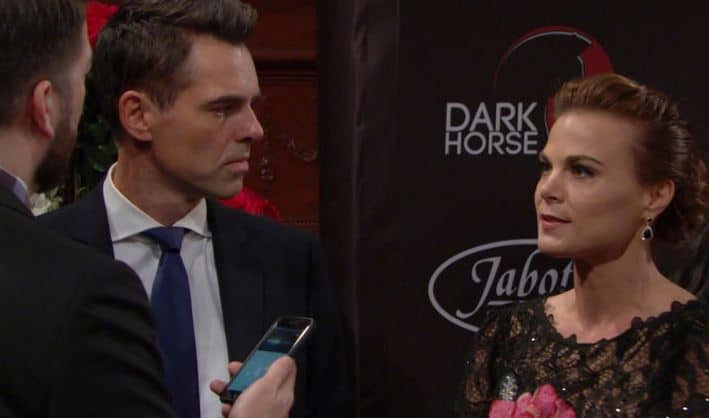 Young and the Restless fans are all so confused about so many things, so let's go back to last week and discuss what might be going on. We know that many things are going to take a long lasting effect on the world, but what happens when some people make it their mission in life to deal with things their own way? Nick made Phyllis an offer, and it's not one she can refuse. They are on top of the world right now, and that is good news. However, there is a lot that we might have to deal with otherwise. For one, we know that Phyllis and Billy will compete at work every moment they can. He is not happy she took over as the CEO, and he will do anything and everything in his power to make sure that he gets what he wants and what he needs to look better than her. But that's not all, either.
There is the fact that Summer decided she wasn't done with Kyle. She wants him to be in her life, and she wants him to let go of the whole Lola thing, and he's not having any of it. It's not good for her, but we don't know where that might go or what might happen for her. So, here's what we know so far. We know that Nick makes a bold move and things are kind of working out for him even though he was the one whose bride walked away from him at his own wedding. And Summer is on a mission, which usually means nothing good is about to happen. And Things will all fall apart and work out for some while making others miserable this week.
What's Happening on the Young and the Restless
Who gets your vote for best dressed? #YR pic.twitter.com/T3BbqDu64C

— Young and Restless (@YandR_CBS) November 16, 2018
Well, we want to know, too. Who do you think is the best dressed person in all of Genoa City. Go ahead and tell us, and don't be ashamed or afraid if you love more than one person at a time around here. We get that feeling, and we know what you mean.
What's Next on the Young and the Restless
Thanksgiving is here! Get ready for lies, family gatherings, and more this week on #YR. 🎉 pic.twitter.com/FG2fvOEasz

— Young and Restless (@YandR_CBS) November 18, 2018
Nick is going to get a big surprise from Phyllis this week, and it might make his entire week. They aren't serious, but they aren't not serious. Does that make any sense to you? We aren't sure that there is much we can do about that other than to deal with things that way that they are meant to be dealt with, and that's all there is to it. We know that we can get this situation to work in our favor, but we also know that there is nothing we don't expect from this. Arturo's life from before has some affect on the way Abby feels about him, and it's going to come to a bit of a head this week. She's not sure she can get that situation to work for her in her favor, and that's all right.
Sometimes you just have to go with what you feel, and that's all you can do. You cannot handle things the way they are meant to be handled if they don't get it together, but she's just not sure how she's feeling right now. Things don't always work for her, and that's all there is to it. We don't know if this will affect them in a long-term manner, but we do know that she can only handle so much right now, and we are totally all right with that. There's al o ton her plate, and she's confused about a lot. She's had bad experiences, and she's not looking for more at this moment in time.
Stay tuned for more Young and the Restless and be sure to check out TVOvermind daily for the latest Young and the Restless spoilers, news, and updates.