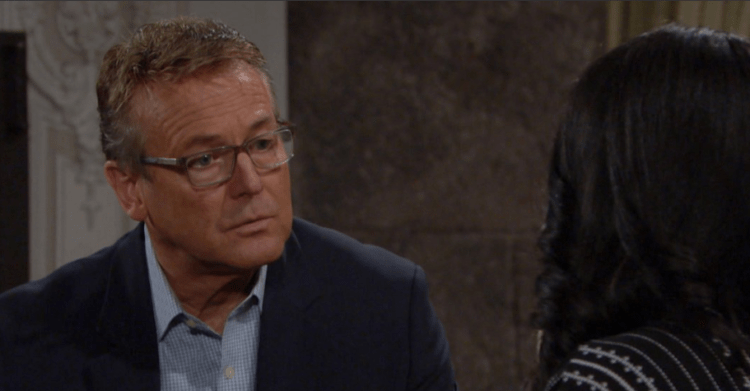 Young and the Restless fans were shocked to see Sharon and Adam together again. It was the day, and it is one we've been waiting on. We think that there is a real possibility that Rey needs to watch his back and make things right in his own life, and there is a chance she will no longer want to be with him at all. She's got the man back whom she was married to and loved for a long time, and she's finally feeling happy about her life again. She's lost a lot of men to very random things, and this might just be one of those moments that changes her forever. It won't go well for Rey, but that's not something that shocks us. Nothing in his life is doing well for him these days, and we just don't care. He's not our favorite.
But they were reunited, and it was awkward, interesting, and fascinating. We cannot wait to see how this all unfolds and what happens as they continue to go down this path. Meanwhile, we also saw that Billy has a plan in place to protect his own family. He's not playing games, either. Kyle is spending more time than ever with Lola, and Summer is not about to have this happening in her marriage and her life. Lola might want to reconsider what she feels is her way of life. Nikki has news, and she is about to stun the world when she comes out and says what is on her mind. She's been very dishonest in the past, but she has to be honest with everyone. And they are nothing short of totally shocked. Not that we did not all see that one coming, but you know what we mean. This was an actual thing.
What's Happening on Young and the Restless
Happy #MothersDay from #YR! Here are just a few of the many incredible mothers of Genoa City. ❤️ If you could take your mom anywhere in GC to celebrate, where would it be? pic.twitter.com/9HRQn6y8A7

— Young and Restless (@YandR_CBS) May 12, 2019
Just loving us some moms.
What's Next on the Young and the Restless
Sharon reunites with Adam today on #YR. pic.twitter.com/KLl5sWVcRv

— Young and Restless (@YandR_CBS) May 13, 2019
It turns out that Adam may or may not be missing some very important part of his life, which is his memory. He has no idea what is going on, and there is a good reason for that. He might not have died, but he didn't get to live his own life the way he was meant to live his life that night when he was allegedly killed. Now his father is trying to get him back to himself, and we get why he was trying to keep this to himself in the past. He had to keep it to himself so that he could get his situation under control. He had to keep his son from his family since he didn't remember anyone, and he didn't want to hurt them even more than they were when they found out he was dead. But Victor is bringing him home now, and he wants to help him get his memory back. It's going to work, right?
We are not so sure this will work out in his favor, but there is nothing else we can do to make sure it doesn't work out for him. There's a lot going on. Sharon worked hard to encourage him to return home and try to remember his life and the people in it, and he's doing it. He wanted to see her, and he must have some memory and feeling of her in his mind. And we get that. She's someone important to him, but how will this work for him in the meantime?
Stay tuned for more Young and the Restless and be sure to check out TVOvermind daily for the latest Young and the Restless spoilers, news, and updates.