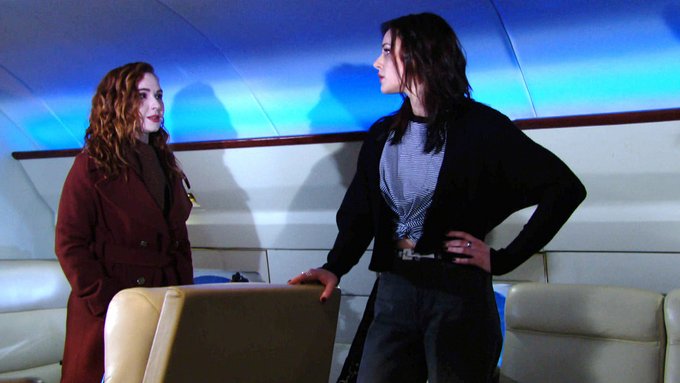 Young and the Restless fans cannot figure Amanda out. She came into town with Hilary's face, and with her negative personality and all her secrets, and she did not want to befriend anyone. She came into town looking to do things that made people wonder who she was and what she was up to and how she was going to figure out her own life, and she did that without hesitation. She send Devon up in arms. She sent everyone into a panic about all the things, and she did so many other things that were not nice. She lied a lot, and she refused to share with anyone what she was really in town for and who she really was. But, she also took a man from a woman. She was a not very nice woman, and she's suddenly trying not to be that person, and we don't get it.
Suddenly, she's making friends everywhere she goes. She's got things on lockdown with Billy. She's confiding in Nate. She's having drinks and gossiping and laughing it up with Phyllis, and she's making sure to find some common ground with people like Devon. She's on a roll with her sudden prom queen situation, and we cannot figure out why and what for. What is she up to? What is she doing? Why is she doing it? What's her end game? We don't know, and we aren't sure, but we don't trust her at all. We do know more about her past and her life, but what is she up to with all of this? She and Devon found some common ground, and we are happy about that, but we also don't trust her motives or her methods or anything else about her, and it makes us wonder what is going on and why.
What's Happening on Young and the Restless
Looking for something to watch? To enjoy #CBSAllAccess for One Month Free use code: ALL https://t.co/XUQ6uccJLf pic.twitter.com/O3sZ2dzH9v

— CBS All Access (@CBSAllAccess) March 24, 2020
This should help pass the quarantine time.
What's Next on Young and the Restless
https://twitter.com/YandR_CBS/status/1241726325259468801?ref_src=twsrc%5Etfw
We hear a rumor that today is going to be the day that Adam shows his true colors, and we have to wonder when he was not showing those? He's a mean, evil, selfish man and he always has been. There isn't a time when we didn't see those, and we don't see how others didn't see them, either. We do have to assume that there is a chance that he was able to tell people he'd changed and that he was able to convince them with his words despite all his previous life actions that he was a changed man, but we just don't see it. Either way, though, we do know that this is one of those things that doesn't make the most sense to any of us. There's a lot going on here, and we can see that it's a thing.
For now, though, we will see his true colors. And Nick and Billy will argue; another thing that we never see happen, right? We have to admit we are slightly confused about what is going on right now as a result of all this information that simply doesn't seem like breaking news to us. We are all right with it, and we do think that there is more going on that we think, and it's good news. It might be a change for someone that's positive. Perhaps someone will finally get Billy the help he needs, or Adam will finally show us what he's here for? Either way, we don't care as long as it's interesting.
Stay tuned for more Young and the Restless and be sure to check out TVOvermind daily for the latest Young and the Restless spoilers, news, and updates.