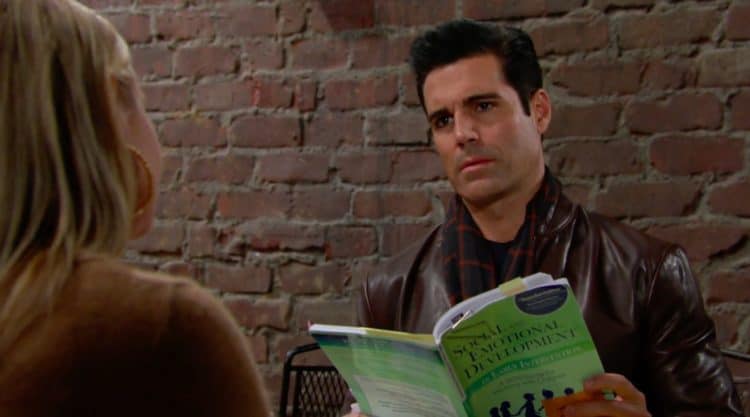 Young and the Restless fans are not surprised that so many things have been going down around here, and we are just seeing the beginning of many issues that people will face. For one, we know that there will be a lot more we don't see happening in the near future, including the fact that we think Billy is taking too many risks. He's not in the right fame of mind right now to be taking risks like this one, and he knows that on some level. He doesn't have the support system for this, and he needs to back down. He will not, but he needs to. Then there is the fact that we also get to see things unfold a bit between Chloe and Kevin as they work more to get to what they want to get to in their secret process. They aren't being very slick about it as we think that there are a few people in the known.
Jack and Nikki have teamed up, and we all know that this is not a good thing for them. They don't work well together without falling for one another in some capacity, and that's a real problem that they have. They are not the best kind of people, but that's all there is to it. They will end up making a mess of this, and we can almost guarantee this is the truth for them. There's going to be some major downfall, and what will we do about that?
On the other side of things, we know that Theo is potentially related to the Abbotts. But, does he know this? He's looking into the family, but we cannot tell if it's because he knows or because he's doing all he can to take down Kyle, and that means taking down his family as a result. It might not be a good thing, but we can see things making a big impact in some other manner of speaking. Right now, though, there is more to this than meets the eye, and we think it will make many things better. For now, we also think that there is a chance that he might uncover a few other truths that will shock everyone, himself included. Probably not nearly as much as it will shock the Abbotts, but we aren't even sure he will share anything he learns with them considering their history.
What's Happening on Young and the Restless
On Camera vs. Off Camera 😂 #YR pic.twitter.com/h1wSIQGihZ

— Young and Restless (@YandR_CBS) November 6, 2019
We love this!
What's Next on the Young and the Restless
Kyle has a tough time welcoming Theo into the family while Chelsea protects her loved ones this week on #YR. You won't want to miss it! pic.twitter.com/JhzQmeWpEt

— Young and Restless (@YandR_CBS) November 3, 2019
Amanda is someone we don't know enough about yet to feel comfortable with her. No one is entirely sure why she is here, and most people aren't sure that her reason is good enough. No one is really sure she is who she says she is, that she is going to make it as she is meant to make it, or that she is going to be the person she was meant to be. But, there is nothing that will not work for everyone if she is honest. She has to face her past, but we can see that she is doing all that she can not to do that at all. She's not interested in it, and we get that.
But there is more to this than meets the eye, if you ask us. She is struggling, and we cannot figure that out. She's got some problems, an we want to see if there is anything else we can do about those. Meanwhile, we will also see that there is a lot happening with Devon as he gets another set of unfortunate events thrown his way in the form of bad news. Theo's dad is joining the cast, too, and that ought to be quite good.
Stay tuned for more Young and the Restless and be sure to check out TVOvermind daily for the latest Young and the Restless spoilers, news, and updates.