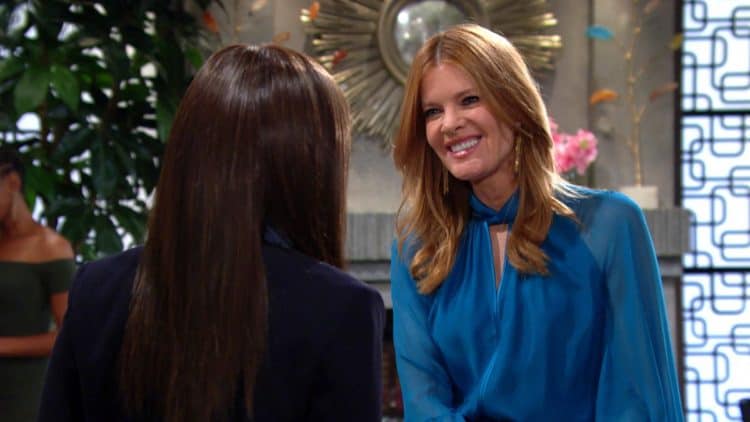 Young and the Restless fans are not amused by so many things, including the fact that Victoria is working so hard to get her father to understand where she is coming from, what is going on and how she can fix things. She's making an appeal to him, but we aren't sure he's really hearing her. They've hurt one another so badly in the past, and things don't seem to be looking up for either of them in the moment. They are doing their very best, and they are doing what can be done to make things work, but there is nothing she can do if her father is not willing to hear her out. Was his reaction a true indication of how things will play out, or will he make the decision to do what he said he would not do and make himself happy at the end of the day? We aren't sure how this will work out.
Of course, there is also the fact that Phyllis is living her best life, but she also has a few questions. She's looking to find out if Amanda is something she says she is not. What is this woman who looks so much like Hilary doing in town? What is she working on, and how is she working on it? Will she have a situation on her own front to deal with, or will she find a way to make the most of what is going on. And, what is she up to? Does she want actual answers, or does she want to use this young woman to get things to go her way? We cannot decide, but we can see that she might work things out in her favor if she had to choose things in her own life.
What's Happening on Young and the Restless
Today on #YR, Phyllis gets the last laugh, and Amanda faces a tough critic. WATCH FULL EPISODE: https://t.co/h9aDmYrMno pic.twitter.com/TwiCt51rXy

— Young and Restless (@YandR_CBS) October 8, 2019
We love when Phyllis is happy.
What's Next on Young and the Restless
Will Victoria's ambition earn Victor's respect or start a war? Find out this week on #YR! pic.twitter.com/sFtgiQ9G0v

— Young and Restless (@YandR_CBS) October 6, 2019
Chelsea is in a place in her life where she is being forced to let some things go, to make some choices she might not want to make, and to give up a certain aspect of her life. We are led to wonder if she has to give up some of her past grifter ways so that she can get her life in order a bit more. She's not been someone who has made the best choices in her life, but that's her own prerogative. She's had some bad news, some ugly situations, and she's made it her goal in life to focus on things that aren't always the best of the best. She's a woman who has to make choices she doesn't want to make for the greater good of her own life, but we don't think she can always handle it the best. She's a mess, and she might just know that in her life.
Then there is what is going on with Kyle and Billy. They are making a mess of their own lives and the lives of one another, and we cannot figure out what they think they will gain from this. They are doing no favors for anyone, including themselves, and it's almost too much for us. They are a mess, and they don't appear to be getting over things as quickly as we thought they might. Right now, they are struggling a bit to get their lives in order, and we don't know if they can do it fast enough.
Stay tuned for more Young and the Restless and be sure to check out TVOvermind daily for the latest Young and the Restless spoilers, news, and updates.