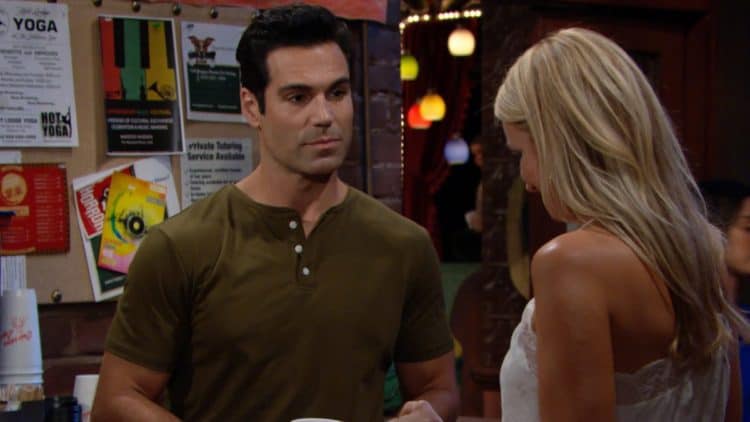 The Young and the Restless fans are ready for some changes. For example, we are tired of Sharon and her games. She left her husband-to-be at the alter because he was sleeping with another woman, and here she is sleeping with another man while trying her hardest to make things work with Rey. She's not doing good things in her life right now, and she's not happy about that. She's also causing issues with everyone in her life at the moment. She's upset with her daughter. She's upset with her own family. She's causing issues between brothers. She is literally sleeping with the enemy and she doesn't seem to realize that is her reality. She's making a mess of things that don't need to have a mess made of them, and she's got no one to blame but herself.
Things need to fix themselves. We are also curious how things will fall down with Theo and Kyle after the message Theo sent. He's not happy with Kyle, and Summer knows the truth, too. Will she let him marry Lola knowing this information? Will everyone fall apart and what will happen to this wedding? We are not sure, but we do know that some people cannot get away with much more than they are getting away with right now. We cannot wait to see how this all falls down, and it might just be good stuff. We cannot wait to see it all happen, but it's not going to be very pretty if we had to guess. We cannot wait to see how this week goes for everyone. It should be good stuff with good ultimatums, and it should be a situation we now is going to change the game in more ways than one.
What's Happening on the Young and the Restless
Before you see the stunning bride on her big day, check out some #YR Wedding #OOTDs! Whose is your favorite? 😍 pic.twitter.com/NIA7eDbSaX

— Young and Restless (@YandR_CBS) August 16, 2019
They all look lovely!
What's Next on the Young and the Restless
Even cold feet can't hinder true love. ❤️ It's the wedding of the year this week on #YR! pic.twitter.com/mOIV0c3jnN

— Young and Restless (@YandR_CBS) August 11, 2019
Billy is in a horrible place in his life, and we cannot help but wonder if anyone who claims to love him is actually going to help him? There is nothing that is going to go well for him, and he is going to start this week with a total meltdown. He's not going to do things that don't work out for him, but he's also in a place where he is not sure how to live his life, what is happening, and how to get by. He's a mess, and today he breaks down. The additional news, though, is that so many things will continue to unfold in an ugly way for him. He's got so much to worry about. But, then there is Abby, who will be very surprised by Arturo when he shows up and tells her he is sorry for the way things ended with them. She's not all that amused, but Nate will come to her rescue.
He will show up and ask if there is a problem going on, and that's that. He's got some issues that need to be dealt with, and he cannot handle them on his own. They cannot get through this, and they cannot focus on anything other than what is going on in their lives. They are not the kind of people who can get past things like this, and we cannot help but wonder why he returned, why he felt the need to share this, and why he is being nice to her after what he did to her.
Stay tuned for more Young and the Restless and be sure to check out TVOvermind daily for the latest Young and the Restless spoilers, news, and updates.