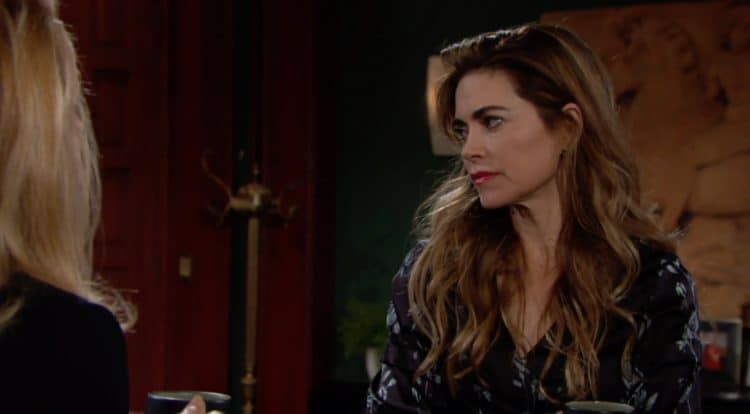 Young and the Restless fans are happy that Nick is taking a stance for what he wants and believes in. This time, though, we'd like to see him stick to it and with it. He's usually the guy who does this, and then he backs down because his mom or dad or a sister asks him to. This time, we'd like to see him stay with it, keep it up, and not make any sudden movements about it. We'd like to see him make this work, and we would very much like to see him make things happen as they are happening. We aren't sure that things will, but we'd like to see someone make the effort. He's in need of something good in his life right now, and this might be what it takes for him to get that if he's not working out in his own favor.
On the other side of things. Phyllis is not getting her way. She's going through a few things that are setting her back, and she is not a fan of that. She's done all she can to ruin things for Chance and Abby, including sabotaging a date that they were on, trying to turn her family against him, and so on. She's not getting what she wants, though, and they seem more into one another than ever before. This doesn't work for her as she is the one she'd like to see with Chance. But, we know that Phyllis is nothing if not resourceful, so she will inevitably find a way to see if she can make things work out for her and in her favor. We can see that happening, and we can see that making a difference in at least a few lives if things go according to plan.
What's Happening on Young and the Restless
💫@MelodyThomasSco has a message for the #YR fans! 💫 If you missed any of today's all-new episode, you can watch it here: https://t.co/80fFwtqULu pic.twitter.com/eA4TBOYUAl

— Young and Restless (@YandR_CBS) January 27, 2020
If you want to catch these new episodes even though they are not airing, we suggest you learn the alternatives, because it's your only option right now.
What's Next on Young and the Restless
Billy and Victoria struggle with their relationship this week on #YR. pic.twitter.com/d46ZQxU8UY

— Young and Restless (@YandR_CBS) January 26, 2020
Things are going to get a little awkward today over at Nick's place. It turns out, he and Chelsea have to have a bit of a conversation about a few things, and she is going to show up to do that whole figuring things out situation with him. Neither of them wants to be in this situation. Neither of them wants to take part in this. Neither of them wants to be involved in any of this, but they know that they need to do it, get it out in the open, and they need to make it a priority as they are moving forward with things that are happening. She is going to make sure he knows she's so sorry, but we have a feeling that he really doesn't care what she says to him at this point. We just hope that they can at least be amicable about all of it.
Billy is going to make a move of his own, and it will stun everyone around him. Not that he's been doing anything less than absolutely shocking everyone around him for some time now, but this will really come as a shock to those around him. He has some things he wants to finish. Some things he wants to do, some things he needs to say, and he's not going to let anyone get in his way, either. He's done. He's taking control of what he feels is important in his life, and he's backing down at all.
Stay tuned for more Young and the Restless and be sure to check out TVOvermind daily for the latest Young and the Restless spoilers, news, and updates.