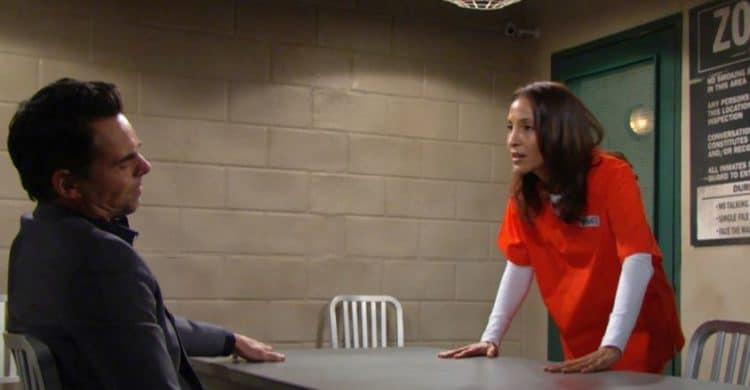 Young and the Restless fans aren't all that surprised to see that Billy was so shocked by what happened with Victoria and Cane, and he went and made sure that Lily found out that her husband was cheating on her while she's in prison. And then Cane found out that she found out, and he went right to the Abbott home and made sure to let Billy know exactly how he feels about this. It's not something he can handle in any way that's at all specific to him, but he did punch him in the face. And he did it the moment that he opened the door to the house when Cane rang the bell. Now, there is always a chance that it was not Billy who said a word about it, but we will find that out in due time. Kerry was also in a bad place lately, and lying to Jack is not a place anyone wants to be. However, she did it.
And it's not good for her. She's already a bit of a mystery to him, and now she's worried that things will not work out in their favor. She's not happy to be caught in a lie, but we also aren't all that convinced she's unhappy to be caught in one, either. There's a lot happening around here, and that's one of those things that doesn't make much sense to us. We do think there could be a way that this might work in the favor of some people, but for now – we just have to wonder how he will handle it. Nick is not happy with Phyllis, and he finds that he wants to know more about what she's up to. He doesn't trust that whatever it is will be anything good.
What's Happening on Young and the Restless
Time to cut the cake. 🍰 We're celebrating 30 years as the #1 Daytime Drama on the #YR set, and you're invited! Follow along on our Instagram and Facebook stories. 📸 pic.twitter.com/cECtcYYZYo

— Young and Restless (@YandR_CBS) January 17, 2019
We love to see them celebrating like they actually like one another, which they do. Not on the show of course. In real life, though, they are great friends.
What's Next on Young and the Restless
New year, even bigger drama! 👊 Get ready for blowouts, breakdowns, and unbelievable moments. 👏 It's all coming up on #YR! pic.twitter.com/S2Wv0CMHq0

— Young and Restless (@YandR_CBS) January 20, 2019
Nikki is taking a hard line. She's got some life issues to deal with, and she's done allowing everyone else to dictate how she lives her life and what she does in her free time. She's not going to sit here and allow anyone else to make any changes or sacrifices in her system, and she is certainly not about to allow anyone to take her life over for her. She's going to take a hard line, and she's about to make sure everyone knows it, too. She might not be back in her best health just yet, but she will be there before she knows it. She will take a line, and she will not back down. She's not afraid, but she is worried for her future and all it means to her and the people around her.
Cane and Victoria have a lot of common ground with one another, and they will find it right now. She might not be happy that he went and punched Billy in the face, but she's also not happy that this is going on at all. There is too much here that's at stake, and not enough people are willing to work through that and make it an effort they can get on board with. We think they will take this situation with a grain of salt, but we also think that they will find something else to deal with. For now, though, they will continue on their bad, ugly, no good path and end up hurting even more people than they have already.
Stay tuned for more Young and the Restless and be sure to check out TVOvermind daily for the latest Young and the Restless spoilers, news, and updates.