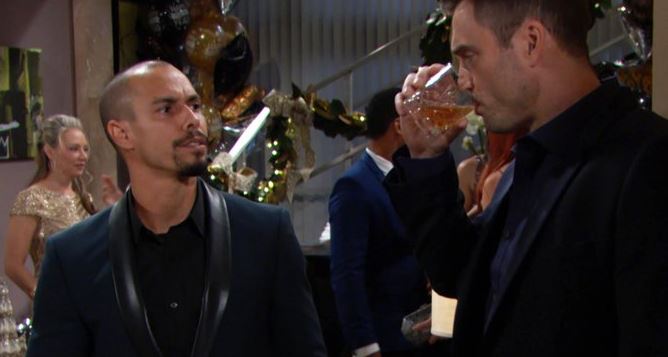 Young and the Restless fans are not going to believe what has been happening the past two days. This has been the only show on the air for the past week and that's big. There's been some serious stuff happening. For one, we think that Nikki might be all right. She's made a comeback that's helped her live her life in a better way. But then there is her husband. Victor came home to be with her while she was injured and her life was on the line, but he's been arrested and charged with the murder of JT. Things aren't looking good for him, and we have a feeling that Nikki is going to confess so that she can save her husband from the truth. After all, she did it and telling the truth will change her own life as she sees it fit. She will find a way to make things work for her and to make this all go away, but she has to be honest so she can protect everyone.
And then there is this awful mess that's going on with Cane and Victoria. They had a very intense fight when they realized that all this happened because of their kids. When Reed told his mother what happened that night and that he was driving because Charlie was drinking, it all went to the wayside. She blamed Cane for being a bad parent who doesn't know what he is doing while his wife is in jail, and then they kissed. He's been struggling with his relationship with Lily since she went to prison and began to change who she was as a person. And now he's got some intense feelings for Victoria. And now things are going crazy.
What's Happening on Young and the Restless
It's the #NewYear and you know what that means – so many new episodes of #YR! Happy 2019 from all of us at The Young and the Restless. pic.twitter.com/XtaVxxZckc

— Young and Restless (@YandR_CBS) January 1, 2019
This is the new year, and this is what you can look forward to. This is one show with one cast that does love their fans more than anyone, and they want to use this time to show you their appreciation.
What's Next on the Young and the Restless
Get ready for the #NewYear in Genoa City! 🎉 #YR pic.twitter.com/TCBLvGDswG

— Young and Restless (@YandR_CBS) December 31, 2018
Things aren't working so well for anyone, and that's going to continue to become the extent of many problems. We are going to see this week begin with Mariah and Abby at odds. Abby isn't happy with her, and she's about to let her know that she's not pleased with her actions and the way things are going in her life. But that's not all, either. We will also see that Cane and Victoria have to find a way to move on from what happened when they kissed. He's a married man who just fixed his marriage to his wife who is in jail for a year for what happened when she was involved in an accident. And things aren't going well at all for many people who are struggling.
They will agree to never let it happen again, to say nothing of the sort to anyone, and to let this go. He's married, and he wants to make this marriage work. So many of his own poor choices led them to where they are, and he cannot make another set of bad choices. But that's a lot easier said than done when it comes to him. And then we have to sit back and understand what is going on with everyone else. We have to sit back and realize that Billy has decided that he wants another chance with Vickie. He has no idea she's going through this, that she was involved in JT's death, or anything else of that nature. It's been a big year, and we cannot help but wonder if that means there will be more bigger years for them.
Stay tuned for more Young and the Restless and be sure to check out TVOvermind daily for the latest Young and the Restless spoilers, news, and updates.