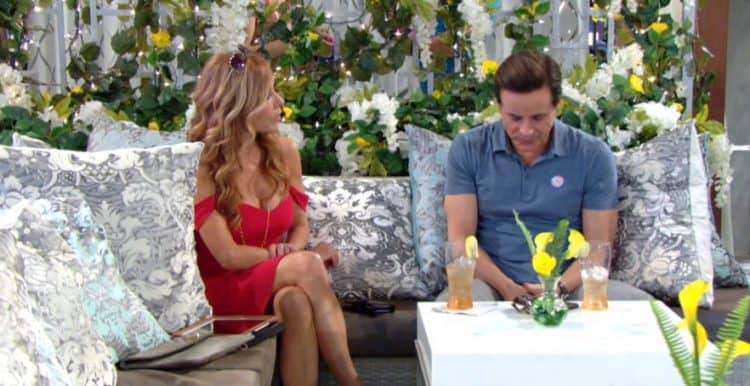 Young and the Restless fans know that Billy is a mess. He is clearly losing his mind, and his family is trying to be there for him. They don't know how to help, though, and that is a problem. They are not in a good place with him, and they are not in a good place with anyone. He wants to figure things out in his own life, but he's not sure how to do that. He's not sure how to get through these dreams and the knowledge that he lost a child. He's in a terrible place, and he's lashing out. They don't understand what he is dealing with and going through and living with, and they don't get it in any way, shape, or form. He's unhappy, miserable, and he's not living a life that makes sense to anyone. They do love him and want to help, but their lack of understanding is causing him to lash out.
Victor, on the other hand, has learned quite the secret. We aren't sure if this means anything to him that we are not already aware of, but we do know that there is more to this than meets the eye. We know that there is a bit of a situation to deal with, and we know that there is so much more than meets the eye. We know that there is a lot going on with him, and there is rarely a situation he can control. But, there is also a chance he can get things to work for him. Mariah, on the other hand, is dealing with Theo. He's working his angle, while she's just trying to keep things going smoothly and working as they should. He's going to go behind her back, though, and he's going to make it a thing.
What's Happening on Young and the Restless
Summer definitely isn't over Theo. 😘 #YR pic.twitter.com/LWdxsHuph9

— Young and Restless (@YandR_CBS) August 21, 2019
Could this be a thing?
What's Next on Young and the Restless
Loyalty is tested, trust is lost, and threats are made this week on #YR. You won't want to miss it! 👏 pic.twitter.com/GFZV9NZdBV

— Young and Restless (@YandR_CBS) August 18, 2019
It's going to be a big day for Chelsea, who is going to strike a deal. She's not someone we trust, but she's never really been. We are not sure what is up with her at the moment, but we suspect she had something else going on with her husband before he died. We think she conned him, and we think that she had every intention of what happened going on in her life, and we suspect she is someone who doesn't seem to worry or care too much about anything else or anyone else. We are sure she is someone who makes decisions based on things out of her control, but that's just that. We also think that Sharon is going to find some comfort in Nick, but why wouldn't she? Rey is in love with her and wants to be with her, Adam proposed marriage to her, and now she has to find comfort in the arms of her ex? We just don't get her games and how she feels they are necessary in her life.
Of course, we also know that there is a lot happening with Lola and Kyle. They are taking this moment to look into the future of their lives to see what it holds for them. Can it be a good one considering all the drama and the problems they have right now? With all the people who are in their lives trying to ruin what they have going on, is there even a remote possibility of happiness in their future?
Stay tuned for more Young and the Restless and be sure to check out TVOvermind daily for the latest Young and the Restless spoilers, news, and updates.