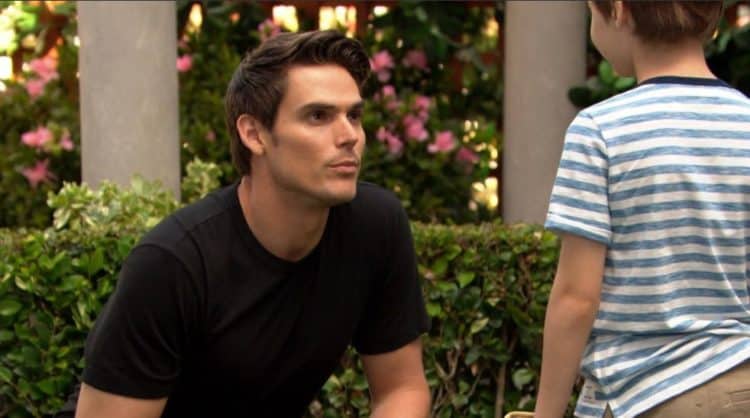 Young and the Restless fans aren't shocked that Nikki caught Adam doing things he should not be doing. When is Adam doing things he should be doing? He's always a mess who does things that don't work for anyone, and the fact that his stepmother called him out on it is not a shocking situation in our minds. He's a mess, and we know it. But, she's not dealing with this. She's not going to sit back and let this young man ruin her family and their lives again. He has done enough, and we can say that with some sort of certainty. Devon, on the other hand, is looking into his future with some serious thought. He's not sure what it will bring, or what it will mean for him, and he's not sure how to handle it. He really did think it would go one way, and it was all thrown into a total tailspin the rest of his life. It's not really something he's handling well.
Then there is Kevin. He and Chloe are going to cross some lines and do some things that don't make a ton of sense to us. They have issues. They have problems. They have a situation in which they cannot get their lives together without things falling apart first, and we cannot help but wonder if there is something more to this story than what we are getting from them. There is a lot going on, and we do get that. But, right now, they have to figure things out on their own or they will not work for them at all. Will they put it all on the line so soon after getting to come home and get back to their normal lives? We can't be too sure just yet.
What's Happening on Young and the Restless
Looking back at happier times with Victoria and Billy at the GC Carnival for #TBT. 💕 #YR pic.twitter.com/wkVM6f8r20

— Young and Restless (@YandR_CBS) September 5, 2019
They are so cute.
What's Next on Young and the Restless
From the intrigue to the romance, everyone wants more #YR! Don't miss everything coming up this week. 👏 pic.twitter.com/UK7WCLQoqW

— Young and Restless (@YandR_CBS) September 1, 2019
There is going to be some serious chaos around here, and we can all see it unfolding. For one, no one really thought tha the opening of the Grand Phoenix was going to go well and smoothly, did they? Well, we think that Chelsea and Abby might think that it will go their way, but we can be sure that this will not turn into something so ugly that they cannot handle it. We think, though, that it will be nothing short of totally entertaining as it all works out for us in the end. We can also expect this week to bring us bit of drama in terms of Victor. We are sure this will surprise you, but he has a secret, and it's not a good one. He's keeping things to himself about things that don't really matter that much, and it's not going to end well for him. He's a mess, and that is all there is to it. He's going to make sure it stays that way, too.
Then there is Chloe, who is doing all she can for Billy. She's taken to making sure he is all right. She might recognize that there is something going on with him that is not good and that is not going to work well for anyone else. She's got a lot on her plate, and we cannot help but assume that they will not make it through this if she's not looking out for him. She's got to keep him from harming himself, and it's not going to end well for anyone.
Stay tuned for more Young and the Restless and be sure to check out TVOvermind daily for the latest Young and the Restless spoilers, news, and updates.