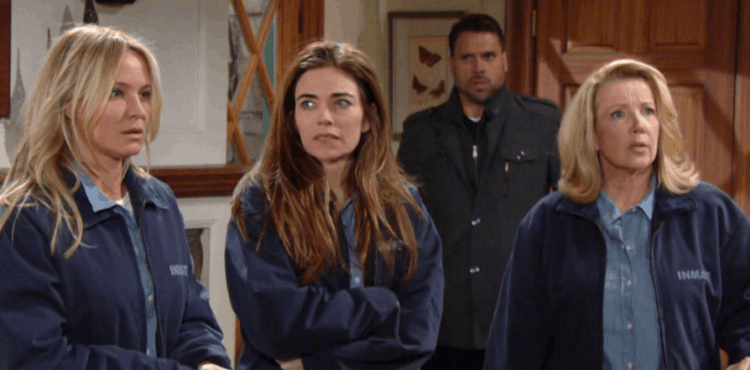 Young and the Restless fans know that it's just too late for Lola, who wants to reach out to Kyle. She knows he did not do this to her, and she also knows that Summer is going under the knife. She is now heartbroken to realize that her boyfriend is married to Summer, who is going to go to surgery right away, even though Kyle did what he felt he had to do to make this work. And he even booked them a suite on their wedding night, which was a bold thing to do considering the fact that he is not in love with his wife. No one was happy at their wedding, either. We all saw them upset, we saw Abby roll her eyes so far back in her head it's not even funny, but he's doing this to help her. She's worried, however, that as soon as she is out of surgery and has recovered enough to go home that he will be ready to leave her.
Billy and Nick set up a trap, but we still have questions about whether or not it might actually work. We are not convinced that it will, though, and that's just us. We think they have a chance to see this through, but we are not convinced that it will work as a whole. We do think, however, that there is a little more going on that we thought. We thought we might find out what Ana was hiding, and we are sure that Devon did not see this coming. She's been keeping secrets from him for a while, and he's been very patient with her. But, we aren't sure where he will go from here now that he has an idea of what is going on and how this is all working for him.
What's Happening on the Young and the Restless
When the cameras are rolling vs. between takes 😂 #YR pic.twitter.com/MaY1ZuyyhY

— Young and Restless (@YandR_CBS) March 18, 2019
Well, they seem a bit more relaxed this way.
What's Next on the Young and the Restless
Coming up on #YR, Summer's surgery doesn't go as planned, Devon investigates Ana's finances, plus Sharon, Victoria, and Nikki get a visitor at the Abbott cabin. pic.twitter.com/jqckj55DKJ

— Young and Restless (@YandR_CBS) March 18, 2019
Victor is aware that Billy and Nick have set up a plan that will trap someone, but he's not sure he's in on this. He is not sure that he is okay with what these men are working on doing, and they are not sure that they can get this to work in their favor. We have to wonder if there is a chance that what they are doing could get someone else in even more trouble, but there is very little we think that they can improve with this. They are a total mess in every manner of speaking.
But, what about all that is going on in their lives right now? What else is going to happen to them? What all is going to go on with Rey, when she finds out what he is up to and what his motives are leaning toward? She knows that he has feelings for Sharon, and now she is concerned about his involvement in all of this. She is also aware that he is a married man who has some serious issues to deal with. We don't know if there is much they can do to stop the other from getting in their own day, but it's fun to watch. Basically, she's questioning what he is doing, what his motives are, and whether he is willing to put his own job on the line for all of this. We cannot wait to see this all unfold, but will it work in his favor? We aren't sure.
Stay tuned for more Young and the Restless and be sure to check out TVOvermind daily for the latest Young and the Restless spoilers, news, and updates.