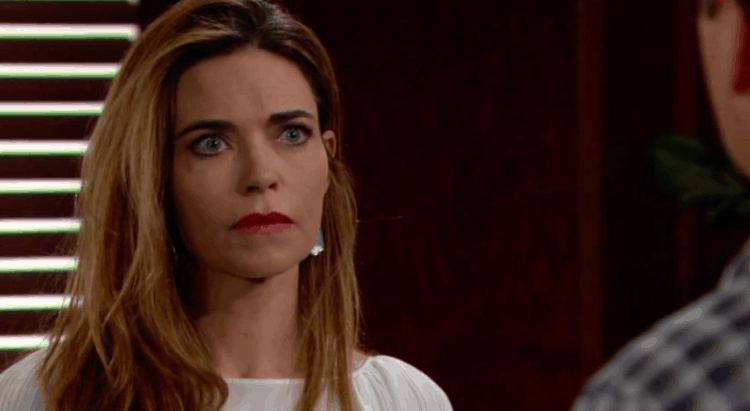 Young and the Restless fans know it's been a long time since Adam died, and he was having a tough time of his life before that happened. In addition to that, Sharon has had many years to move on with her own life and away from the feelings she once shared with her former brother-in-law. She was even remarried in that time that he was dead and gone, but her husband did leave her to go into witness protection. And that was a sad moment for her. Her life, as always, is difficult, but she's making it even more so these days. He's getting to her. He's back and in her life again, and she's feeling thing she certainly does not want to feel, but she cannot seem to make that stop. She cannot seem to make any positive changes, and she cannot seem to make this situation work in her favor.
Her new boyfriend, Rey, is not a fan. He's frustrated with all of this, and Adam is not living his best life. Nick handed over the keys to Dark Horse and gave it to his brother with a warning. Then there is Victor, who is still lying to Nikki. Nikki is learning things left and right that continue to shock her. Kevin is back in town and he has Phyllis, and no one seems to care other than Paul, who is currently out looking for her. Chloe is another issue, and Kevin wants her back. But, who will figure this out and bring it to life for everyone to see? There is so much going on that doesn't make much sense to us, and it doesn't seem to work in the favor of anyone else, either. There is a lot that also makes us cringe, and we need to see results.
What's Happening on Young and the Restless
https://twitter.com/YandR_CBS/status/1138862502903607298?ref_src=twsrc%5Etfw
We think she's literally green with envy.
What's Next on Young and the Restless
It's a week of betrayal, lies, and blackmail on #YR! Don't miss it. pic.twitter.com/fqJqeQiaUy

— Young and Restless (@YandR_CBS) June 9, 2019
There is a lot happening around here right now, and a lot of it is going to change when Victor is open with his family about what is going on. He is very sick, and his kids need to know. Nikki knew something was wrong with him, and she knew that he was unwell, but even she did not know the extent of the illness from which he is suffering. It's time for him to round this week out by sharing with his family just how sick he is, and they are not going to handle it well. He finally has all of his children together, and he has to be honest. They might not like one another much, but he wants them to know the truth and make the decision to be a family again on their own. Will they do it? Will they even care he is sick?
Meanwhile, Lauren and Jack are continuing to heat things up, and we actually like it. They are on a business trip together, and it's a little bit of fun, too. They are not at home, they don't have their everyday lives to worry about, and they are going to make the most of the time they have together. It might not be what they saw coming, but we like it. We hope that they both begin to realize that they have some serious potential with one another, and we hope they make the decision to act on that and make it work. Will they, though?
Stay tuned for more Young and the Restless and be sure to check out TVOvermind daily for the latest Young and the Restless spoilers, news, and updates.