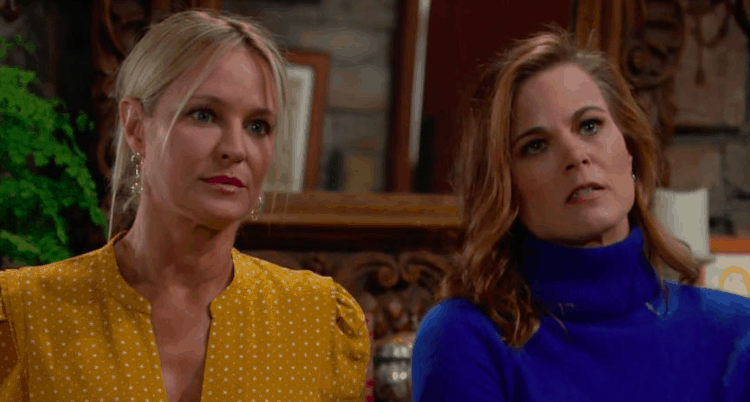 Young and the Restless fans know that there's a lot happening with Sharon right now, but will Rey tell her what happened to him? Will he tell her that his wife called out his brother's name when they were in bed having a very intimate moment, or will he not share that very private news with her? It's not like it's a secret that he has feelings for Sharon and that he'd like to be closer to her, but it's not like he might want to bother with this sham of a marriage he has going on at the moment, either. He has made a big mistake in trusting her, and we aren't sure that he can make that right in his life. He might not be able to get things to work in his favor, but we also think that he might be able to get her back and end his marriage to Mia.
On the same note, Summer is all happy that Lola is out of the picture now, and she's all focused on making sure that Kyle remembers she is so charming and wonderful and all that he's ever needed in his life. She's working her game, but he's not really going for it. He's just not that into her, but what else can they do about this in the moment? They do have a lot to handle, but we do think that they might be able to get their situation under control and work through this if they are permitted to do that. Maybe this will work for them, and maybe it will not. But she's trying to romance him while Jack is trying to defend him, and everyone is just a mess. Will they all get it together, or can they even try?
What's Happening on Young and the Restless
#YR
Jack asked Summer to leave Kyle alone he's out of town,she knows he's at the cabin.

— Nancy (@huner0909) February 12, 2019
We all know that will never happen. She's got her own agenda.
What's Next on Young and the Restless
Summer charms Kyle today on #YR. pic.twitter.com/2RLir0GYlG

— Young and Restless (@YandR_CBS) February 13, 2019
Sharon is not in the middle of her best moment, but she's also going to prove that she cannot handle the pressure on her today. Someone is going to catch her in one of those moments that is not good for her, and she's going to end up caving. She's not sure she can handle it, and she's not sure that this will end well for her, but we hope that she can get it together long enough to protect herself and what is happening in her life. She's a mess, and we all know it. We all know that she's made some mistakes, that she's been a mess all along, and that she's been working very hard to get it together, but she is just unable to handle the kind of pressure that they are putting on her.
And then there is what is going on with Jack, who will not stop trying to get to Kerry. He is still trying to romance her despite everything else, and we just don't get it. He's not that into her, is he? This is not something that is really all that important to him, is it? And what about Nick? He's working Phyllis very much, and she might not even realize he is doing nothing more than toying with her. It's a situation that might make everyone a little uncomfortable, but it's all in good timing. They can't handle it all, but they can handle it as it comes to them. They have so much to deal with, but will they get through it in the coming weeks?
Stay tuned for more Young and the Restless and be sure to check out TVOvermind daily for the latest Young and the Restless spoilers, news, and updates.