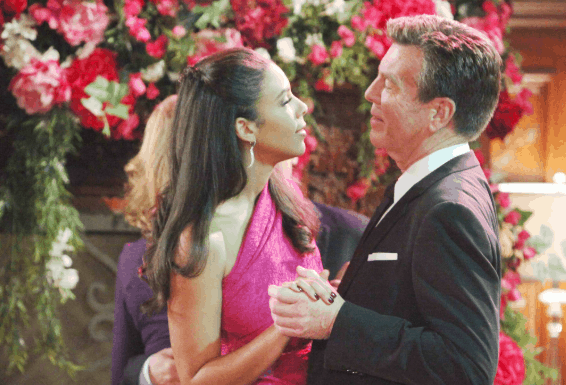 Young and the Restless fans know that Abby is dealing with a lot right now. She's got this woman in her life who is working so hard to make her miserable, and she's not a fan of what is going on. She's not fond of the fact that this woman wants to be a total jerk to her, and she's not a fan of the fact that she is also trying to be with two men at the same time. She's married to Rey, but he's trying to be with Sharon, and Mia is really in love with Arturo, who wants to marry Abby. But Abby is growing more and more suspicious of this young woman and what she's trying to do in their lives. She knows there is no way that she is pregnant. She's beginning to suspect that Mia is a liar and a thief and a bad person, and she's got to find a way to prove she is right. Because she is right.
And then there is Victor, who has a promise to make. He also has some harsh words to share, but so does his daughter. Victoria went on the stand in court last week and had a lot of emotional stuff to say, but she's also not happy with Sharon. She's not sure how this will play out for everyone, but she's not going to handle this well in her own right, either. She's got a lot going on, and she's going to make sure Sharon knows that she's not happy with her at the moment. She's worried about her future and her mother's future, and she's not sure she's loving anything about how Sharon is handling this situation in her mind. It's not working out for her in a way that works.
What's Happening on Young and the Restless
Waiting for the court results like… Do you think Nikki, Victoria, and Sharon will get good news tomorrow? #YR pic.twitter.com/dqLz3xnKeZ

— Young and Restless (@YandR_CBS) March 12, 2019
Well, they aren't friends, but they need one another.
What's Next on the Young and the Restless
The verdict is in this week on #YR! 👏 AND will Kyle follow his heart no matter the cost? Make sure to tune in! pic.twitter.com/4LtY4hE9UD

— Young and Restless (@YandR_CBS) March 10, 2019
The verdict is in, and it's going to shock everyone. We hear that the biggest shock is going to come to the Newmans, and we cannot decide if it's because they did not see this coming or because they did see this coming. It could go either way. The family might be shocked if the women are found not guilty because it means that they win and they have nothing else to work with. They aren't going to see Victoria or Nikki go to prison, and that's amazing news. But, it might also mean that they are found guilty, and the family really didn't see that coming because they were just so hopeful it would not happen this way.
And then there is the fact that we know that Kerry is continuing to do things her own way, and that is not a good thing. She cannot handle what is happening to her and in her life, but she also cannot handle that there is so much going on otherwise, either. She's scheming, and it's not going to work for anyone. She feels she is on top of her game right now, but we feel that she is anything but on top of her game at this specific moment in time. She's happy with the way things are going right now, but we have the distinct feeling she will not be very happy with them shortly. She may end up losing more than she bargained for, and we think that this is a serious problem she'll need to deal with in her own mind. It's interesting.
Stay tuned for more Young and the Restless and be sure to check out TVOvermind daily for the latest Young and the Restless spoilers, news, and updates.