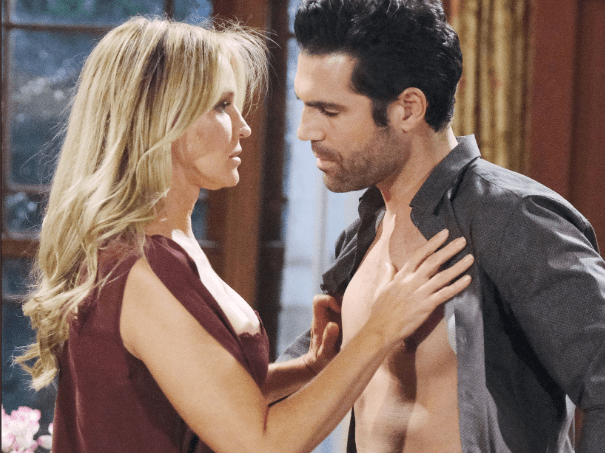 Young and the Restless fans are not sure what is happening in Victoria's life. She was off in Vegas having a great time with a musician and not making good decisions. She was ignoring Billy. She was not making many things work in her own favor. She was not having anything to do with Billy and his calls and the fact that he showed up on her front door and came to her 'rescue' that she did not feel that she needed. She also came across a mystery of her own that makes things work in her favor, and she is not someone who is working on making her life anything than more complicated. But now they are kissing and hosting poker games and acting like a happy couple who belongs together and wants to spend their time together, and we cannot be more confused about her emotions and where they are.
But, there is nothing that is going to make our lives more interesting than the fact that Lola wasn't happy with Kyle for so many things, but here she is allowing herself to suggest that they get a hotel room after they meet for dinner so they can talk. He's a married man now, and she is making this suggestion to him? What is she thinking? She knows he cares for her, but that he is married to another woman, and that is not going to be one of those things that works well for her or for him when Summer finds out what happened between them. Jack found a device that shows someone is listening to everything he has to say, and he suspects it might just be from his own sister. What will he do with it, and did Ashley put it there or was it there from something else?
What's Happening on Young and the Restless
Meet Sean Dominic (@Seanjuan55), who begins his role of Nate Hasting tomorrow! Tune in to see his #YR debut. 🌟 pic.twitter.com/1TYxr1yxoZ

— Young and Restless (@YandR_CBS) April 9, 2019
We love to welcome a new person to an old role.
What's Next on Young and the Restless
Victoria uncovers a mystery today on #YR. pic.twitter.com/yKU7tMPhYt

— Young and Restless (@YandR_CBS) April 10, 2019
Phyllis has a plan, but she's going to learn that things don't always go according to things like plans. She's got a mess on her hands, and that is what she's going to learn today, and it will not be pretty. Things will take a turn she never saw coming, and we can expect to see her take a hard blow. She will, for once, not really know what to do or how to handle her issues, and that will be an amazing situation for her. But, then there is Kyle. He's taking risks, too, and he knows better. He's a newly married man. We know that he didn't marry Summer to make it work and to love her and be with her. He did it as a favor to her, but he is still taking risks that don't make much sense. He's going to allow Lola to talk him into getting a room, and he is going to make a mistake that will cost him a lot more than he has any idea about.
We can see that there is a good chance that Summer will find out, and we can be sure she will go out of her own way to destroy him when she finds out what he is up to. She's that kind of girl, and her own mother will make sure that Kyle isn't able to hurt her daughter again. Things like that always work out in the end, and we can be sure that Kyle has no idea what he's getting himself into right now with this specific decision.
Stay tuned for more Young and the Restless and be sure to check out TVOvermind daily for the latest Young and the Restless spoilers, news, and updates.