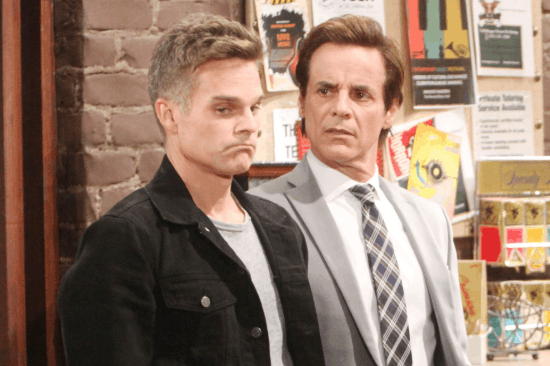 Young and the Restless fans know that Adam has a big hold over Sharon, and she is not doing a good job of not letting it get to her. She is a wreck, and no one can stop this in her life. She's made mistakes. She's made bad decisions. She's suffered, and she's right back to it. He's making her miserable by being back, and he's also making some poor choices in his life, too. He's made a call about Chloe, and he's not about to sit back and allow Kevin to win anything now that he is also back. Adam's return brought about many things that make everyone feel unhappy and upset, and we get that. We get that it's too much for all of them to bear, but we aren't sure that there is anything else we can do but sit here and wonder how to make it all stop. Rey is unhappy with Sharon, and he cannot help it.
He wants to be with Sharon, but Adam is making it harder for him that he ever thought possible. There's too much going on in his situation, and Rey cannot make it stop. Then there is Kyle, who decided it was time to do things the proper way, which was proposing correctly to Lola. Summer is going to lose her mind, and there is nothing anyone can do about it. There's nothing she can do in the moment, that is. She will find a way to stop this from happening, but we imagine it will get a lot worse for her before she finds a way to make it seem better. She's having a rough year, too, and it's mostly her own doing. However, we can't help but feel for her a bit in this situation.
What's Happening on Young and the Restless
Throw me a ❤️ if you're coming to the @YandR_CBS fan event in two weeks!!

— Michael Mealor (@Michael_Mealor) June 11, 2019
Is anyone going?
What's Next on Young and the Restless
It's a week of betrayal, lies, and blackmail on #YR! Don't miss it. pic.twitter.com/fqJqeQiaUy

— Young and Restless (@YandR_CBS) June 9, 2019
Kyle has made an honest woman out of Lola. Well, he's about to. He's proposed to her, and they are planning their wedding right now. But, they have to tell their friends and family about it first, or is it even official? Or maybe they need to put it on social media to make it official. Either way, we don't care. We know that they have to tell the people in their lives that they are engaged and planning their wedding, and it's not going to go over well. After all, we all know that Kyle just had a wedding. To Summer. Like, a month ago. And that didn't go well. He knows it was to help her out in a situation, but not that many other people know that. He's going to look horrible for this, and Lola is not about to gain any new fans, either.
Meanwhile, everyone is going to lose their minds, and Summer will be the biggest and craziest person when she finds out about it. We hope they tell her to her face, before they tell anyone else, and let her absorb the shock and upset. But, we assume they will do no such thing. Nikki is about to learn something else, too. She's got a situation on her hands that will prove unpredictable as she learns something shocking. Well, something else shocking. Let's be honest, most of what he hears is a shock to her these days, and we aren't downplaying things like a son who isn't dead and is back from his death.
Stay tuned for more Young and the Restless and be sure to check out TVOvermind daily for the latest Young and the Restless spoilers, news, and updates.